There are no products listed under this category.
Sectionals & Sectional Sofas
Purchasing a sectional sofa can be an overwhelming experience, especially if you don't shop with a great company like Smart Furniture who has experts available to walk you through every step of the process. When purchasing a sectional, in additional to fabric, color, and cushion type, you have a myriad of options on size, shape, arm style and arm placement to consider.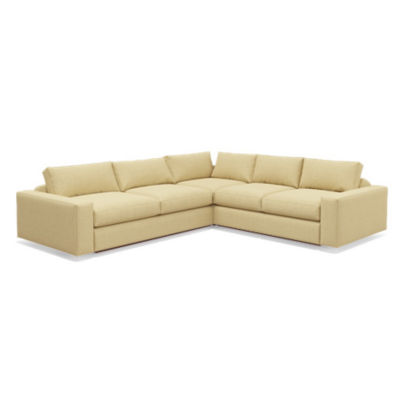 Sectional & Sectional Sofa Shapes & Orientations
The first step in purchasing a sectional is measuring your space. Although they do provide more seating than a standard sofa, sectionals take up considerably more floor space than a standard sofa. When you measure your room, be sure to account for where the sectional will be placed and make sure that access to and around the room will not be blocked. With measurements in hand, you can determine the ideal sectional configuration that optimizes how you intend to use your space. For your sectional, you can chose between L-shaped, U-shaped and Curved configurations. If you want to make your TV the focal point of your seating, an L-shaped couch is an ideal choice. The L shape will allow you to give every seat in your sectional a good view while still providing ample seating. A U-shaped sectional, on the other hand, fosters better conversation and entertaining, naturally directing the gaze and attention of those sitting on it to one another. Both L-shaped couches and U shaped-sectionals can be oriented with a shorter side or chaise of the left hand or right hand side. Placement of doors, windows, and the path for navigating around the room will drive your decision on orientation.
Sectional & Sectional Sofa Colors and Upholstery
Your sectional will probably be the largest piece of furniture in your home. Because it will dominate the space, it's extremely important to balance your sectional's color and overall look with that of the room around it and the decorating style you've implemented throughout the rest for your home. The sectionals from Smart Furniture can be purchased in a myriad of colors. Gray or black fabrics work well with a modern, minimalist look. White, yellow, and light blue work well if you have brighter colors on your walls or other furniture. If you have children or pets, dirt and stain resistance are also points to consider. If you are unsure what color or fabric will work best for your home, one of the Furniture Genius' at Smart Furniture will be happy to guide you through the color selection process.
In additional to color, you will need to select an upholstery type. Many of the sectionals offered by Smart Furniture are available in both fabric and leather options. Leather is a great choice for durability and comfort. If leather is not your choice, Smart Furniture has cotton and linen fabric options.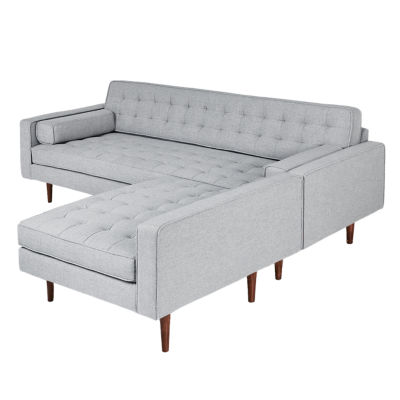 Sectional & Sectional Sofa Style
Finally you will need to select a sofa style that fits your home and taste. Smart Furniture offers sectionals in a range of styles from traditional to contemporary to modern.
No matter which sectional sofa from Smart Furniture you select, you can be certain that your sofa will last for years. Buying a sectional can represent a significant investment in your home; Smart Furniture understands that making a purchase decision on a sofa is a big deal and we are here to help guide you through each step of the process. To learn more about sofas and identifying the right sofa for you, check out our sofa buying guide.