It's the perfect time to add a height adjustable desk to you ergonomic home office toolkit. Also known as sit-stand desks, height adjustable desks can improve circulation, ease lower back pain, and help prevent a sedentary work life. But, how do you know which height adjustable desk is right for you and your workspace? As you research the best sit-stand desk for your situation, here are a few important things to consider; height adjustment, power requirements, desktop size, load bearing capacity, and pre-set height settings. The page below will help you determine the very best height adjustable desk for your office or home office.
1. Sequel 20 Lift Desk by BDI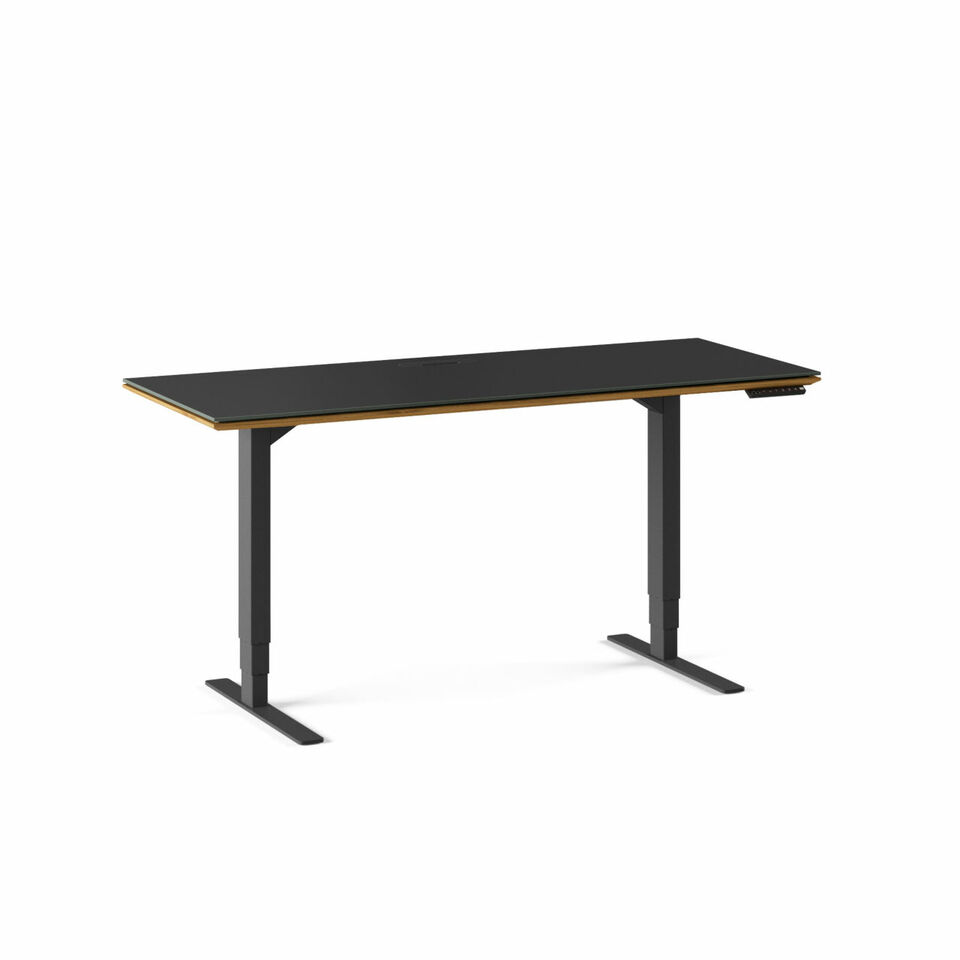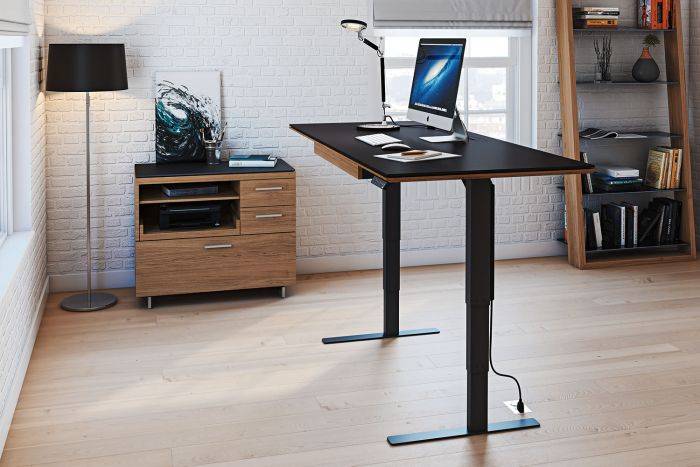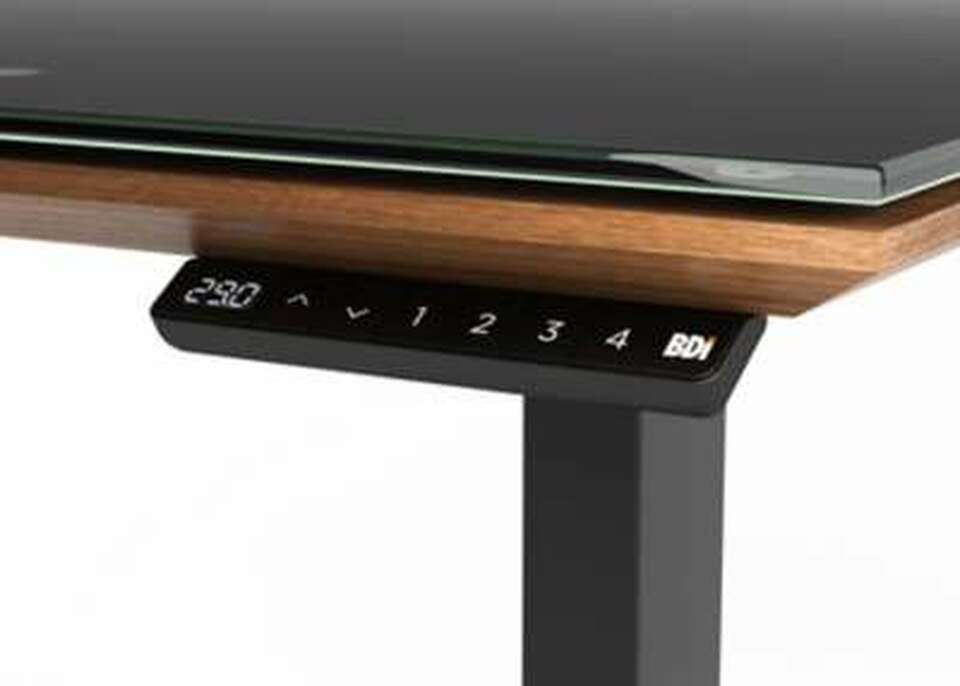 The Sequel 20 Lift Desk performs exceptionally well in all categories we considered in our evlauation; quality and craftsmanship, durability, exceptional functionality and value.
Although the Sequel 20 Lift Desk is on the higher end of the spectrum for height adjustable desks, it's value still runs high and will last a lifetime.
Let's talk aboout style first. One of the first things you will notice about the Sequel 20 is the desktop itself. The desktop hass an incredibly durable tembered glass surface with a velvety soft finish adding a soft touch and protection from scratches and fingerprints.
The Sequel 20 Lift gets an A+ in the functionality category. It adjusts quickly, quietly, and reliably with the touch of a button. In addition, you can add multiple presets for multiple users.
The Sequel 20 Lift is sold in black, chocolate walnut, and natural walnut. All are beautiful and perfect for office and home office spaces.
2. Balance Height Adjustable Desk
The Balance Desk is the definite winner in terms of value or Bang for your buck. The Balance Desk is a simple, sturdy electric adjustable height desk to take your home office to the next level of productivity and comfort.
The adjustable legs are solid steel and incredibly durable. The desktop is laminate and comes in white and walnut.
The desk height adjusts from 22.5 inches to 49 inches with the touch of a button. The action is smooth and quiet.
As mentioned above, this height adjustable desk is a great value. At under $1000, the Balance Desk comes in around 50% lower than similar items. And, there's now concern about quality or durability because this desk is backed by a 10 year warranty making it a risk free purchase!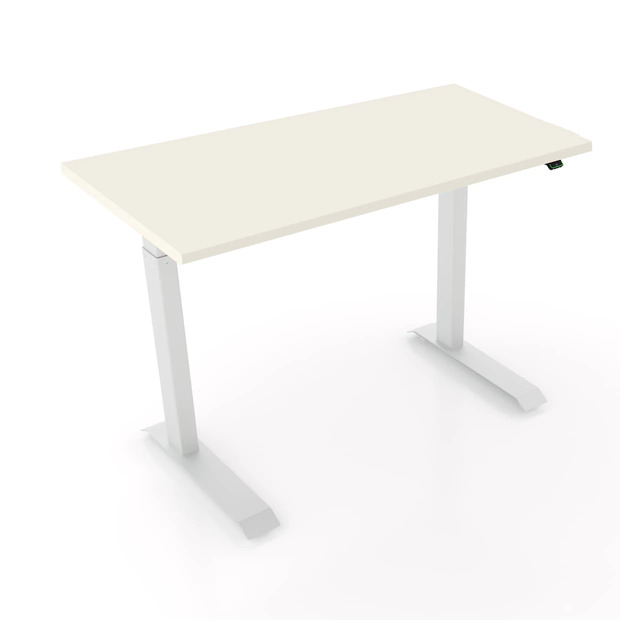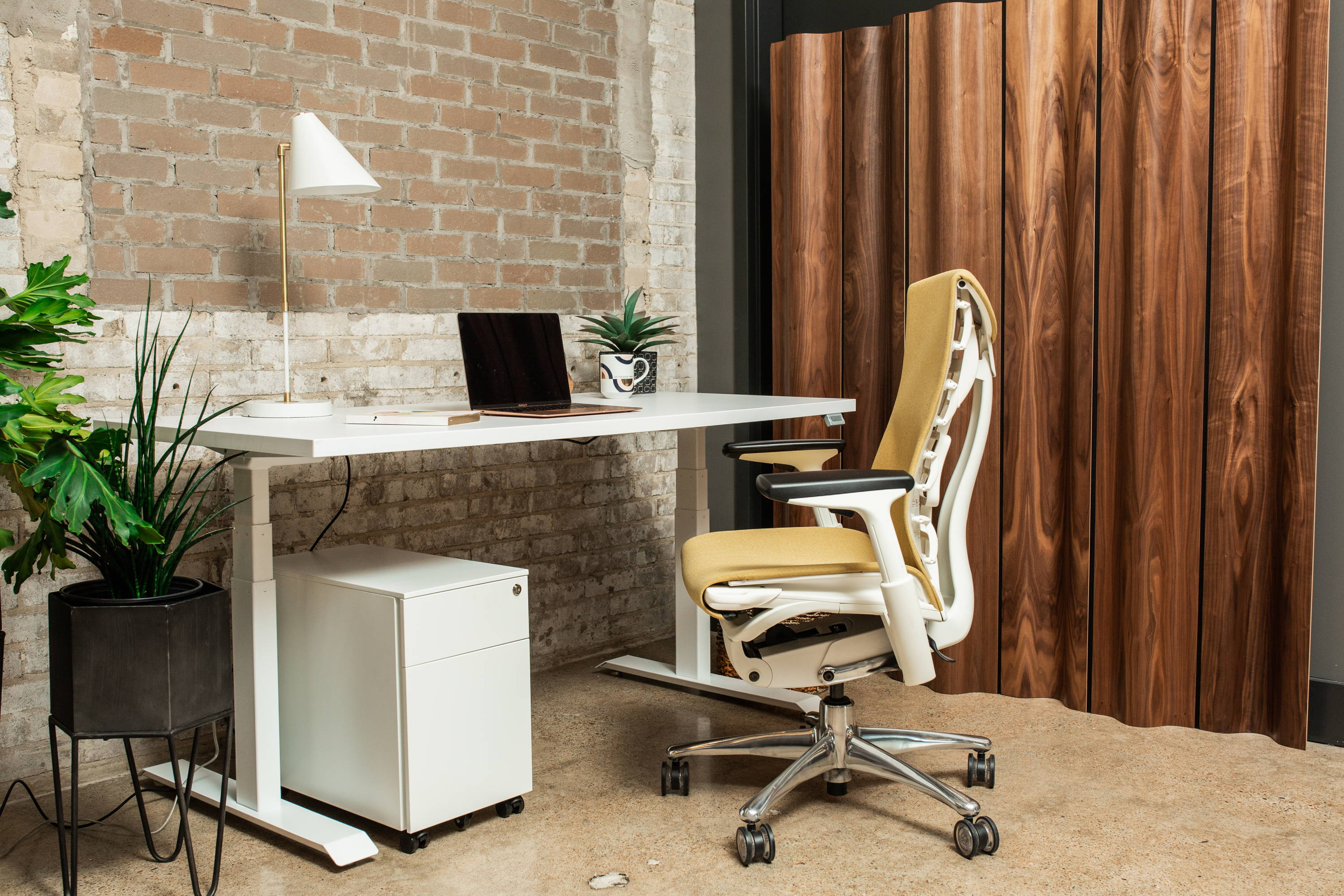 3. Motia Sit-To-Stand Desk with C-Foot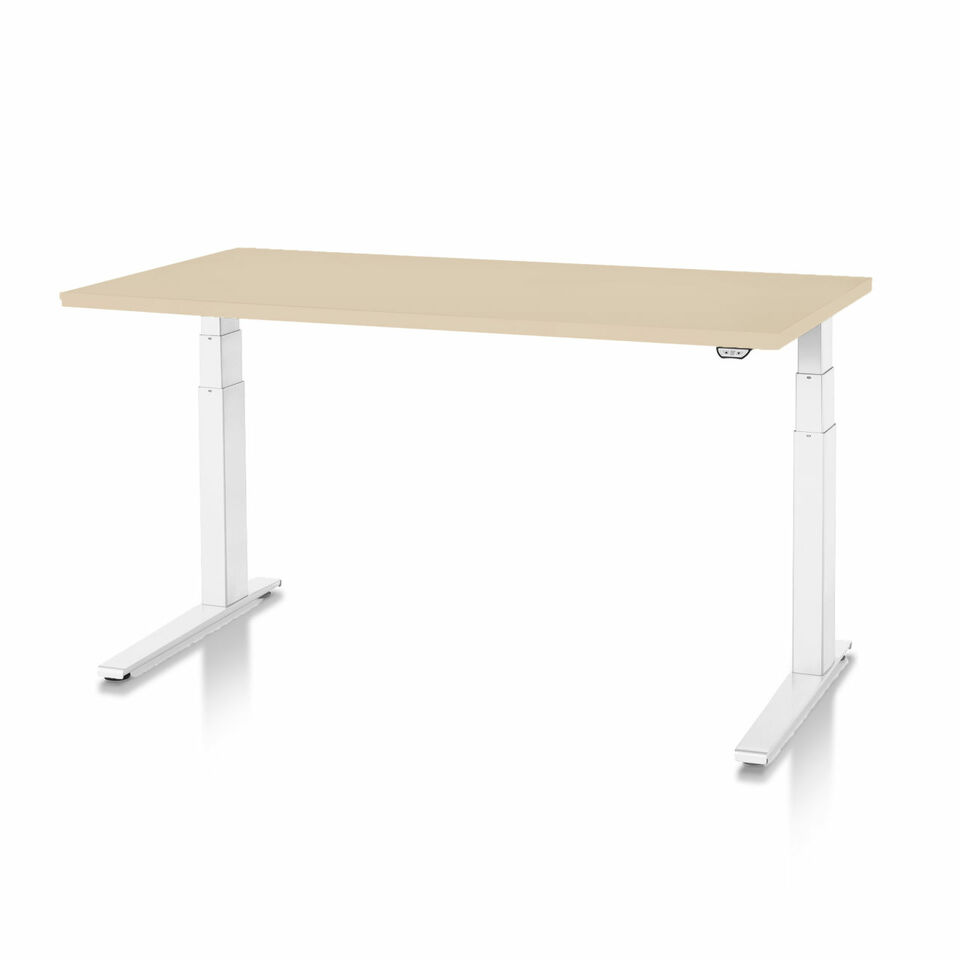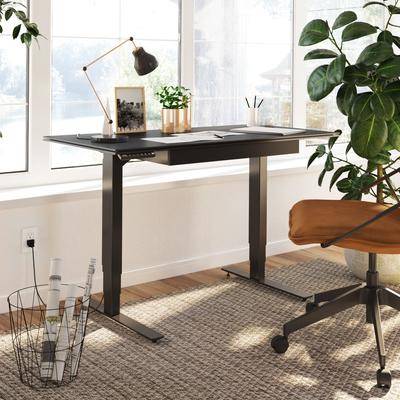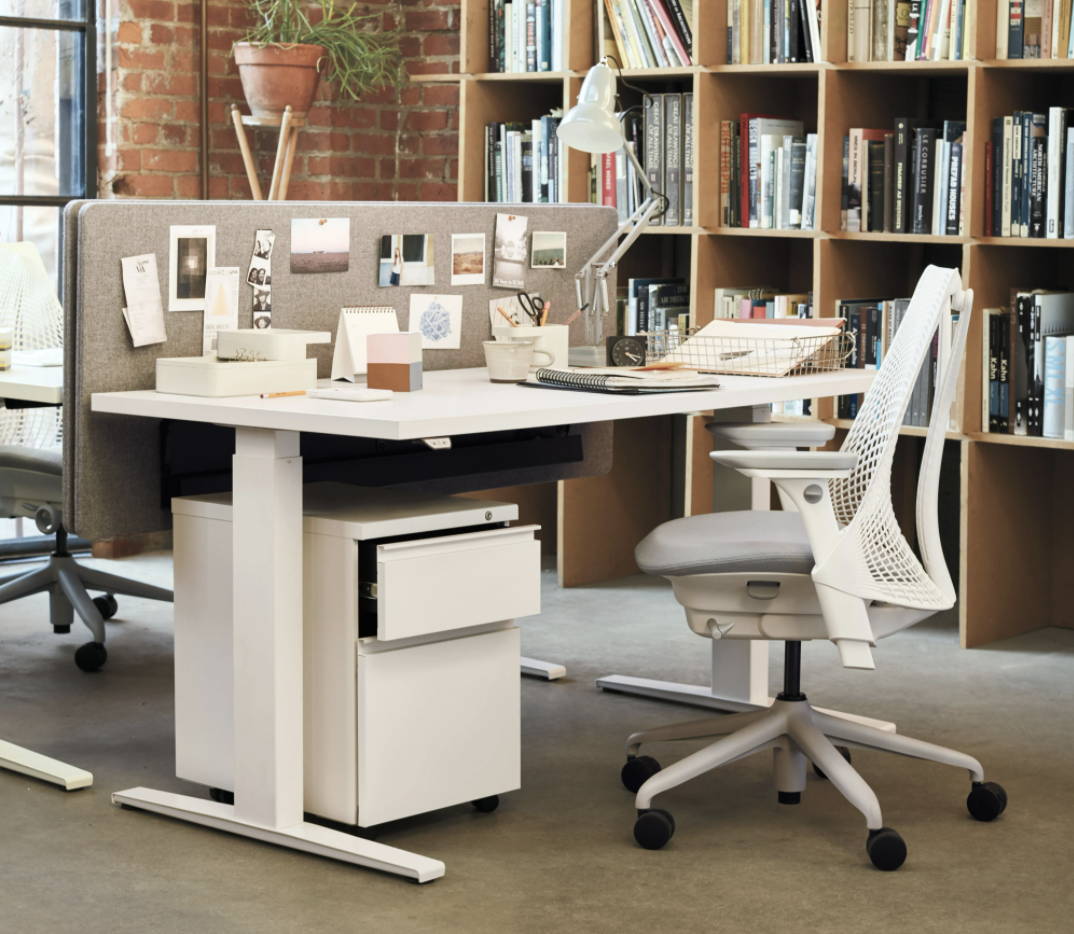 As with any Herman Miller product you can expect great quality and lifelong durability and the Motia Sit-to-Stand Desk no exception. Plus the Motia comes with a 12 year manufacturers warranty making your purchase a risk free investment.
One of the most impressive things about the Motia desk collection is that there is a solution for every type of workspace. There is a C-foot model, a T-foot model, and even a Motia Mini designed for cozy home office spaces.
The Motia SIt-to-Stand Desk is not only durable but also strong. The electric lift is designed to handle over 250 pounds effortlessly!
Talk about options, the Motia collection offers under desktop cable management, shaped surfaces, suspended storage, privacy screens, keyboard trays, and CPU sopport systems. These desks can also be configured with monitor arms and power access.
The Motia Sit-to-Stand desks offer flexibility, power, durability, and style all designed with working healthy top of mind. This one is a no-brainer.
The Float Mini Desk is a powerful little tool that is perfect for small office workspaces and home offices. This desk is also perfect for dorm rooms and even bedrooms. And, the price is unbeatable.
The Float Mini uses sustainably harvested bamboo for its surface material making it a leader in eco-friendly products. In addition, this desk does not utilize and Red List chemicals during the manufacturing process like formaldehyde.
The Float Mini makes use of a pnuematic lift system and does not require electricity for lifting and lowering. ALthough this is not what we consided a standard height adjustable desk, it is the perfect solution for so many working situations.
If your workspace is small or regularly changing, the Float Mini might just be the perfecr solution.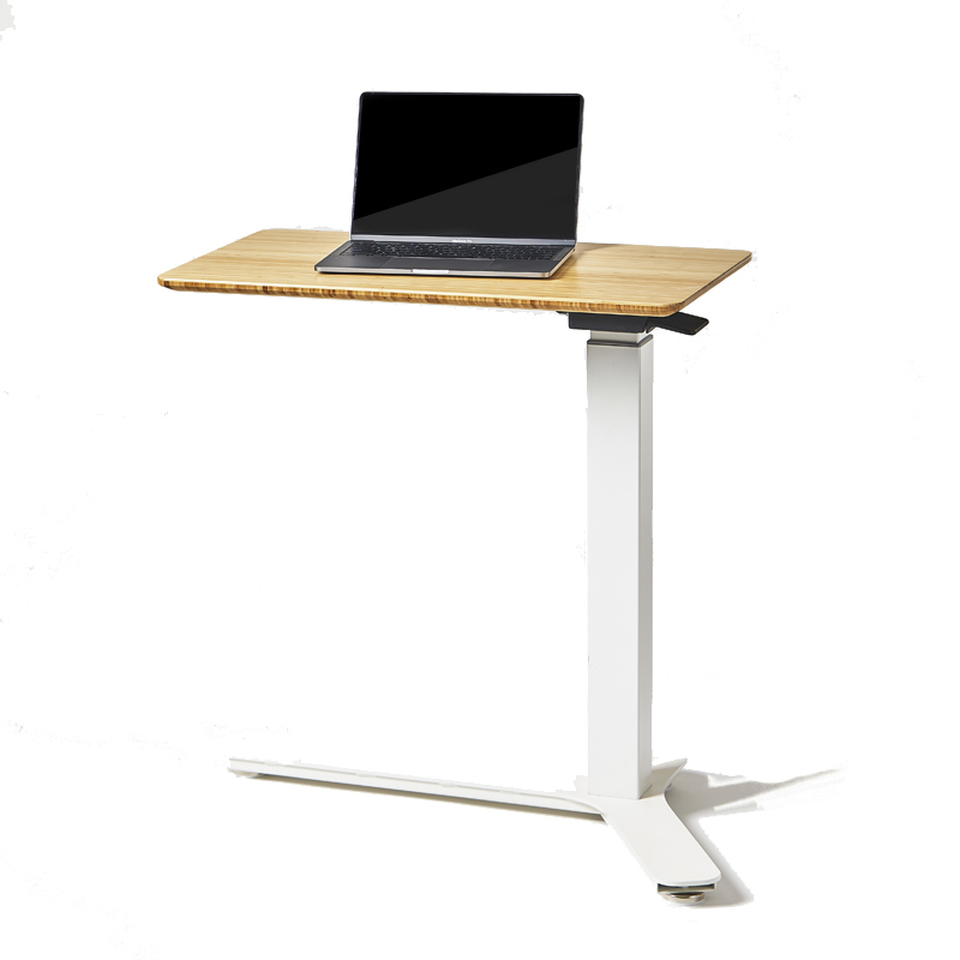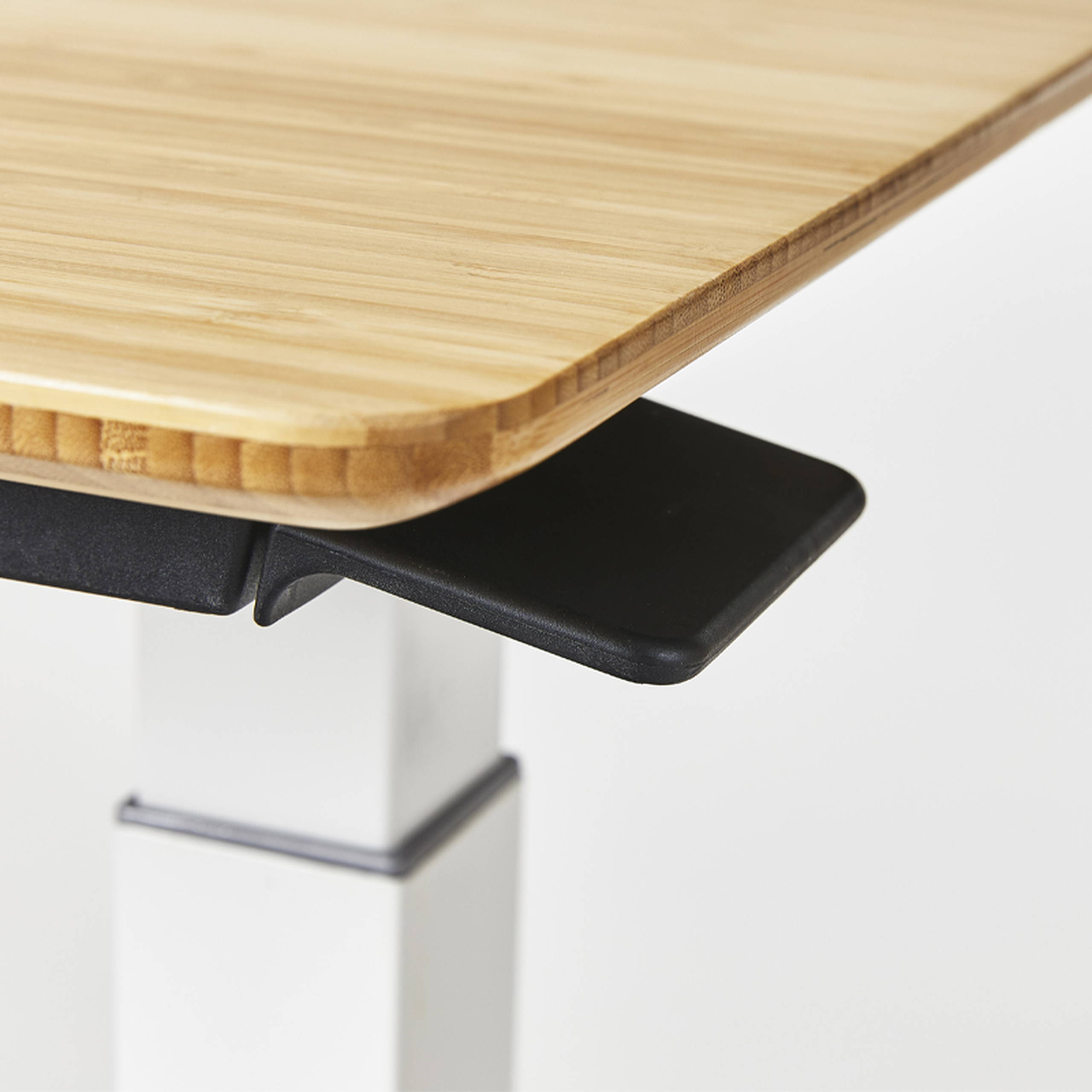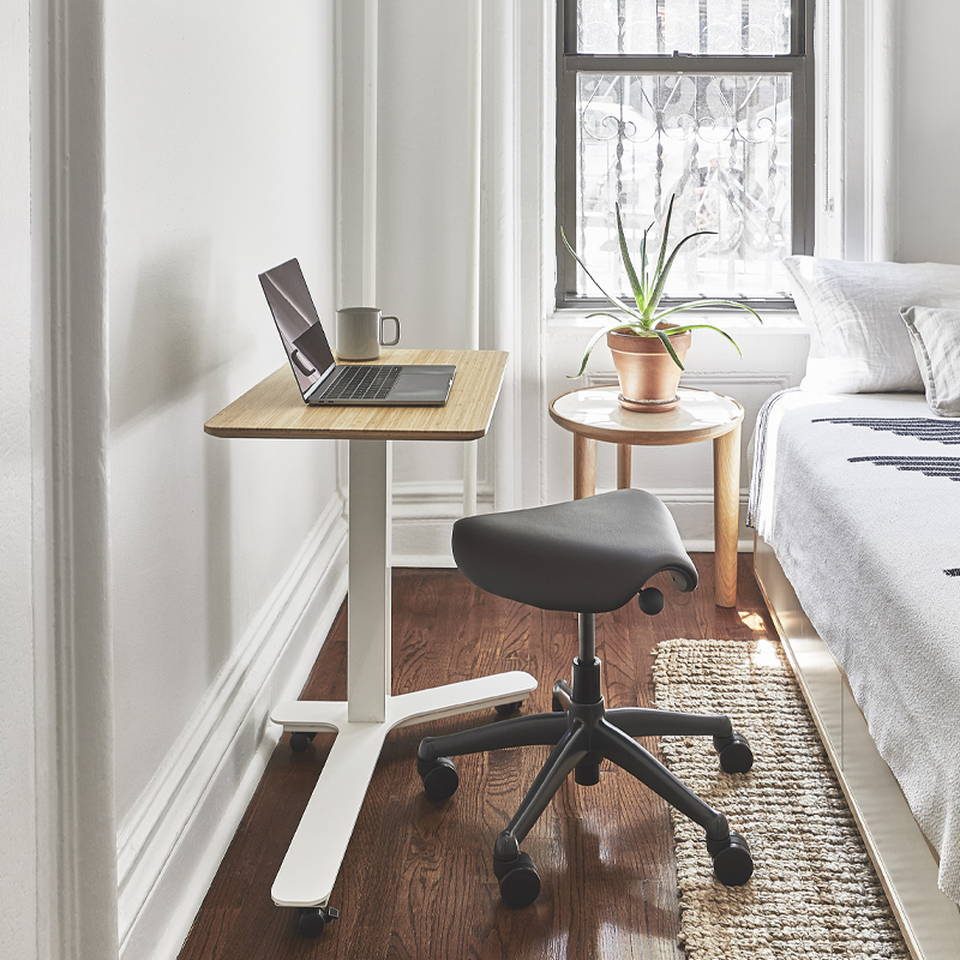 5. Passage Desk Converter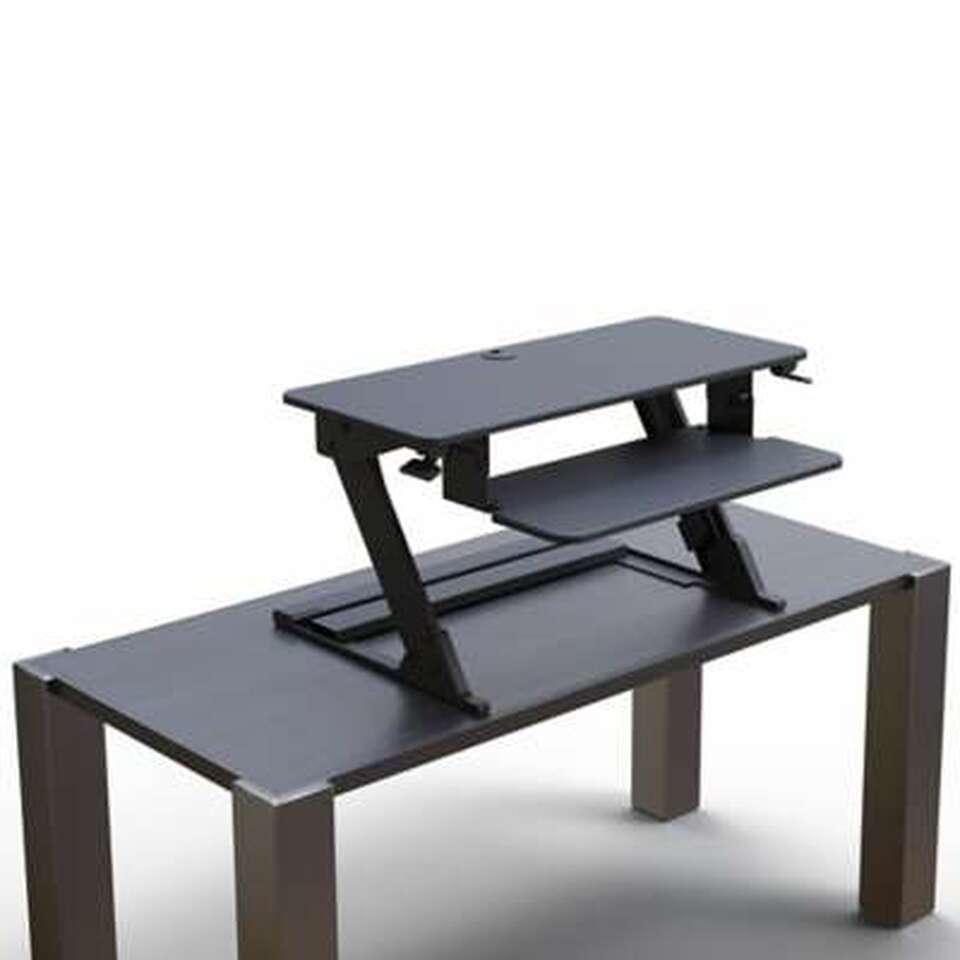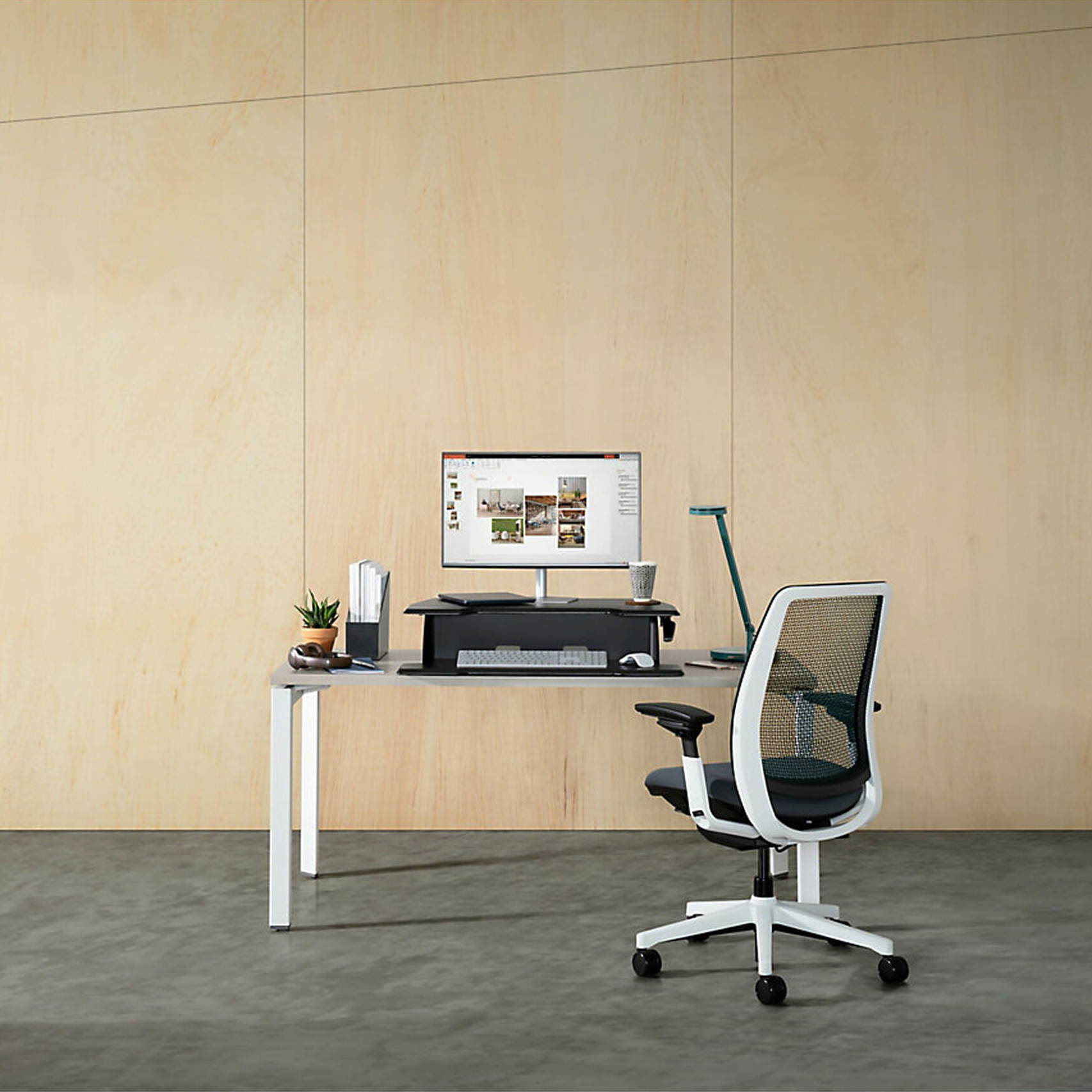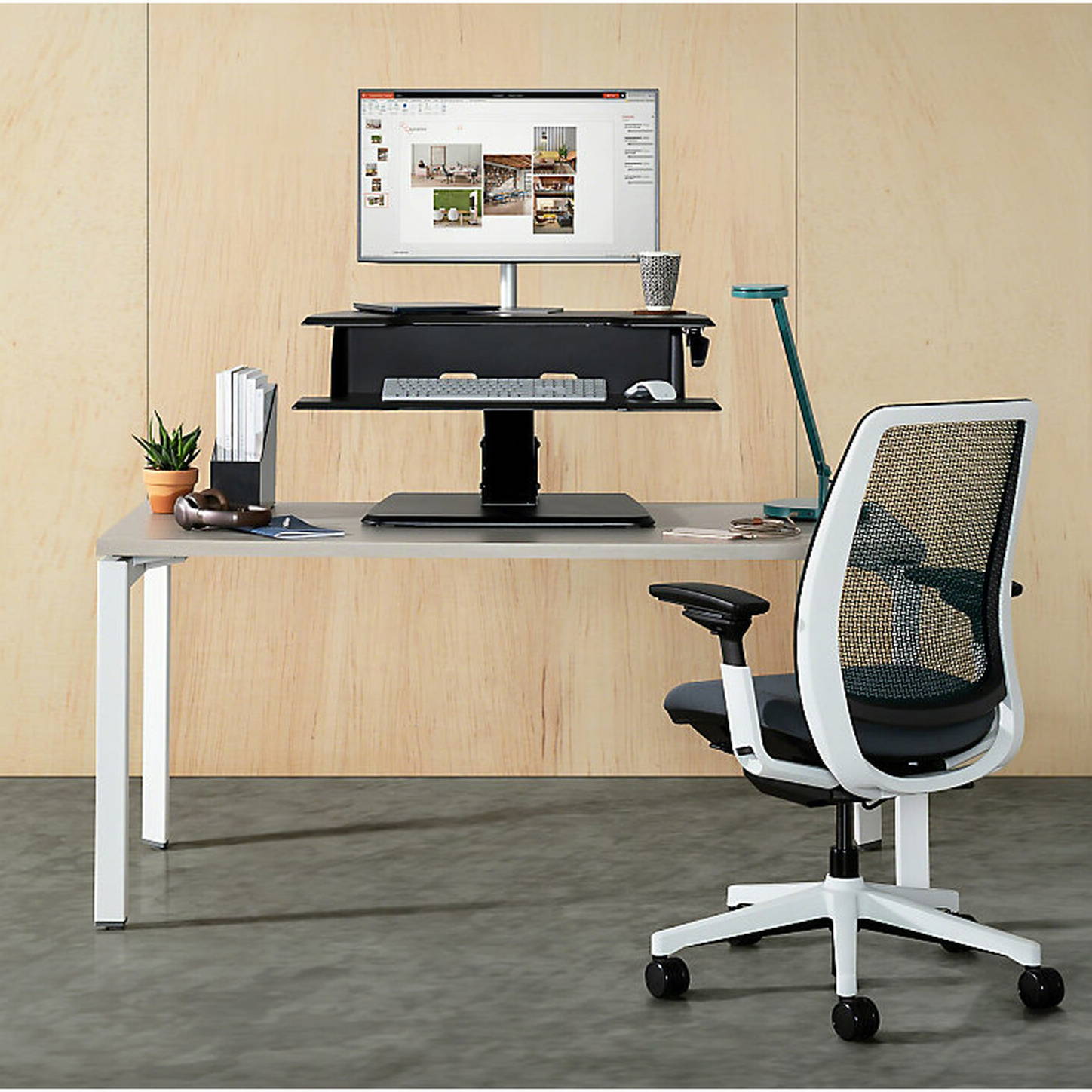 The Passage Desk Converter is one of our all-time favorite sit-to-stand solutions. Talk about bang for your buck, the Passage offers mobile height adjustability so you can take advantage of varying your working position for virtually anywhere.
Instantly transform any table into a height adjustable desk. The Passage desk converter with transform the way you look at work.
The Passage is durable but light enough to be completely mobile. This product is all about easy, quick, flexible, economical and ergonomic. Work healthy for anywhere you like!
Here's something, The Passage is always in-stock and ships free!