Airia Desk by Herman Miller
designed by Kaiju Studios
At A Glance:
"I always think about the people who will be using the products. I feel a responsibility to give them what they want and need, not necessarily what they expect."

So says Ayako Takase of Kaiju Studios on what drives her during the design process. In the Airia Desk, Ayako and partner Cutter Hutton succeeded beautifully in delivering an ultra-functional piece that accommodates all the electronic devices characteristic of contemporary workstations. The Airia Desk has an elevated secondary surface for peripheral items, beneath which is a series of openings designed specifically for cord management.
What's To Like:
This is one beautiful piece of furniture. Forget its functionality for a moment - don't its lines just make you want to design a room around it? Now factor in the smooth-sliding drawer and cable management, and the fact that it's sturdy enough to stand up to move after move. The Airia Desk looks even better now, doesn't it.
The Bottom Line:
The Airia Desk is the flagship of Herman Miller's Lifework line of desks and home office systems. Able to translate well to private offices anywhere, Airia combines beautiful materials and craftsmanship with hidden tech features like cord control and a partitioned drawer to make the design enthusiast's dream desk.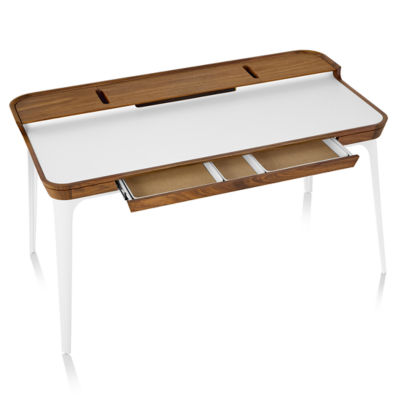 Details:
Airia Desk dimensions: 30.5" h x 56" w x 29.875" d
Main drawer with three removable, cork-lined trays
Solid walnut top frame with inset white laminate
Cast aluminum legs with leveling glides
The Herman Miller Airia Desk is also known by the following manufacturer Item Number: HM300.
Materials:
Sculpted walnut top with white laminate surface. Tapered cast aluminum legs. Removable cork-lined trays for small items.

Dimensions:
Overall: 30.5" h x 56" w x 29.875" d
Main table surface height: 28.75"
Pencil drawer width: 34.38"
Panels are 8.6" deep
Herman Miller Warranty
General Warranty
Care Instructions
With regular care and maintenance, your Herman Miller product will provide many years of superior performance and satisfaction. To maintain quality, please follow the cleaning procedures outlined here.
The instructions for the care and maintenance of Herman Miller products are provided to you as a service. No warranty is implied since results may vary.
Laminates
Normal cleaning
Wash the laminate with a soft cloth and a solution of mild detergent and warm water. Rinse thoroughly and dry with a clean soft cloth. For minor repair of burns or other stubborn marks, apply a nonabrasive liquid kitchen cleanser with a soft cloth soaked in warm water. Rub in the direction of the grain; use caution to avoid damaging the surface texture or gloss. If no grain direction is visible, rub with a light, circular motion.

Do not use powdered abrasives or other harsh cleansers like hypochlorite bleach, hydrogen peroxide, nitric or hydrochloric acids, or lye; they may deface the surface and change the finish color.
Wood & Veneer
Normal cleaning
Dust furniture daily with a slightly damp soft lint-free cloth. Wipe dry with a dry soft cloth in the direction of the wood grain.
Once a month
Clean the surface with a soft cloth dampened with a quality cleaner formulated for wood furniture. Wipe the surface in the direction of the wood grain to remove dirt and fingerprints. Wipe dry with a clean dry cloth.
Twice a year
Apply a good quality furniture polish with a clean soft cloth.Do not use aerosol-powered cleaners or polishes.Also, do not use polishes containing waxes or abrasives, or polishes that are oil based.
Minor repair of water rings, stains, and scratches
Rub the surface lightly in the direction of the wood grain using No. 000 steel wool. Apply a scratch-removing polish with a color and value that simulates the veneer. If the scratches are deep, consult a professional furniture refinisher.
Coated Metal
Normal cleaning
Wash coated metal surfaces with a soft cloth soaked in detergent and warm water; rinse thoroughly and dry. Remove scuff marks from low-gloss coatings with pre-softened paste wax, following the instructions on the label. Remove scuff marks and scratches from high-gloss coatings using automotive polishing compounds, either liquid or paste. After polishing, apply a pre-softened automotive paste wax to restore original sheen.

Do not use abrasive, acid, alcohol–based, or solvent–based cleaners; they may damage the paint finish.