Airia Media Cabinet by Herman Miller
designed by Kaiju Studios
At A Glance:
"I always think about the people who will be using the products. I feel a responsibility to give them what they want and need, not necessarily what they expect."

So says Ayako Takase of Kaiju Studios on what drives her during the design process. Ayako and partner Cutter Hutton succeeded beautifully in creating the perfect complement for their Airia Desk in this aesthetically sensitive yet highly functional Storage Cabinet. The Media Cabinet has two adjustable walnut shelves, with one side open and the other behind a hinged door. Its sculpted walnut top offers a useful secondary surface area for any workstation or home office.
What's To Like:
This is one beautiful piece of furniture. Forget its functionality for a moment - don't its lines just make you want to design a room around it? Now factor in the adjustable shelves and useful top surface, and the fact that it's the perfect partner for the graceful Airia Desk. The Airia Media Cabinet looks even better now, doesn't it.
What's Not to Like:
We know that the cabinet's materials are top-notch, and that its design is beautiful, so we know how Herman Miller arrived at Airia's price. It's just higher than we'd like it to be. With that said, there are quite a few cabinets out there with less functionality and less style that cost more. Just saying.
The Bottom Line:
The Airia Media Cabinet is part of the Airia family within Herman Miller's Lifework line of desks and home office systems. Able to translate well to private offices anywhere, Airia combines beautiful materials and craftsmanship with hidden tech features like adjustable shelves and a partitioned interior to make the design enthusiast's dream cabinet.
Details:
Overall dimensions: 24" h x 35" w x 17" d
Two adjustable walnut shelves, one in an open compartment and one behind a door
Solid, sculpted walnut top
White cast aluminum legs with leveling glides
About the Designer
Kaiju Studios

When Ayako Takase and Cutter Hutton founded Kaiju Studios in 2001, they were looking for diversity, the freedom to design, "anything we wanted, from products to graphics to websites," says Takase. And so far, with clients ranging from Samsonite to Lincoln Center, that's exactly what they've done. Indeed, it was their own diversity in backgrounds that first drew these two together at Rhode Island School of Design, where both majored in Industrial Design. Takase is Japanese and spent most of her childhood in a coastal town near Tokyo. Hutton, on the other hand, grew up in a traditional American family. Both say they've learned a lot from each other's culture and background. "Coming to the U.S. opened my eyes to an abundance of opportunities and gave me the freedom to explore," says Takase. Hutton says, "Ayako's strong work ethic taught me how to take my work seriously."
About the Manufacturer
Herman Miller is an industry leader in the integration of cutting edge technology to furniture and other household items to make everyday life more comfortable, convenient, and stylish. Herman Miller stands out at the forefront of such fields as ergonomic technologies, environmentally friendly manufacturing processes, and customizable furniture items.
In addition to producing some of the most outstanding office furniture in the world, Herman Miller has also taken on the responsibility of manufacturing some of the most celebrated furniture designs by some of the world's most famous designs. These "modern classics" include works by Charles and Ray Eames, George Nelson, and Isamu Noguchi. Herman Miller celebrates these famous mid-century designers' works through its extraordinarily precise manufacturing techniques and industry-leading green production processes.
Herman Miller is a global company with operations, sales offices, dealers, and licensees in more than 40 countries in North America, Asia/Pacific, Europe, Middle East, Africa, and Latin America, serving customers virtually anywhere in the world. Herman Miller is headquartered in Zeeland, Michigan, while manufacturing facilities are located in the U.S., China, Italy, and the United Kingdom.
Warranty
The Airia Media Cabinet comes with a 1-year manufacturer's warranty.
The Herman Miller Airia Media Cabinet is also known by the following manufacturer Item Number: HM310.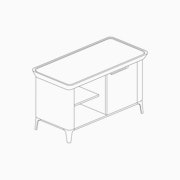 Materials:
White metal case and solid walnut top.
Dimensions:
Overall: 24" h x 35" w x 17" d
Interior: 16" h x 16.25" w x 15.25" d (
each side
separated by vertical shelf divider)
Airia offers 2 adjustable shelf height options. With the shelf in the middle position, you have approximately 8" of shelf space on the top and bottom. With the shelf in the top-most position, you have approximately 4" on the top and 12" on the bottom.
The adjustable horizontal shelves are also removable if you prefer to have the most interior space available.