Barcelona Table
18.5" Tall, Polished Chrome Base

designed by Mies van der Rohe
from Knoll
At A Glance: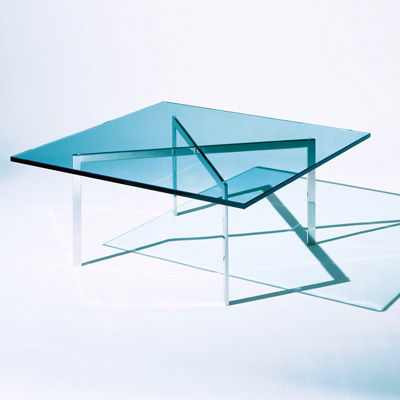 The Barcelona Table is a fitting companion piece to one of the 20th century's most well-known pieces: the Barcelona Chair. Designed by the legendary Mies van der Rohe, the Barcelona Table is every bit as impressive and lasting as the chair. First unveiled in 1930 at the Barcelona Exposition, the Barcelona Table has been in production ever since - a testament to its design integrity and enduring popularity. It represented the process and look of Modern furniture, and rocketed Mies van der Rohe into the public's collective consciousness.
What's To Like:
The Barcelona table is a testament to modern simplicity.
Its symmetrical, minimalist form lets your space shine as a whole instead of distracting.
It's also like having a work of art in your home, with a purity of form and function combined.
The Bottom Line:
The Barcelona Table is useful, beautiful, famous, and elegant without being fussy or ostentatious. It's the perfect addition to any stylish living room.
To guarantee the authenticity of the Barcelona Table, Knoll has had the signature of Mies van der Rohe stamped into the frame of every table. Knoll has received trademark protection for the designs created by Mies van der Rohe; a Barcelona Table not manufactured by Knoll is a counterfeit.
Features:
Overall dimensions: 18.5" h x 40" w x 40" d
Steel base has a polished chrome finish
Top features a thick, clear polished plate glass with 1/8" beveled edge
Clear glass option has a slight green tint
Starphire glass has a low iron content, giving it a crystal quality, making it more clear and luminous than regular glass
Materials:
The 18.5" Tall Barcelona Table has a clear glass or luminous Starphire glass top with a polished chrome.

Dimensions:
18.5" h x 40" w x 40" d