Corridor Media Center 8179 by BDI
designed by Matthew Weatherly
At A Glance:
The Corridor Media Center by BDI lets you support your TV, house your media and accessories, and hide any unseemly mess and cables. Four louvered doors hide three cabinets with adjustable shelves, giving you plenty of space to store anything from speakers or a stereo to BluRay discs and DVDs. The doors' design allows the passage of sound and remote control signals while still keeping your things out of sight.
The Corridor TV Stand's top shelf holds up to 175 lbs, and the interior shelves provide more than enough strength for your components, unless you plan on stacking gold bricks inside. If you do, please take a picture so we can all enjoy the sight of massive amounts of gold in an entertainment center.
Recommended TV size: up to an 85" flat panel TV.
You can keep the doors closed on your unattractive equipment without losing the use of your remote. That's good design.
Corridor's look is sleek and modern. The louvered doors give it a really attractive updated mid-century feel.
Wheels for when you have to move it are a really nice touch - they're the perfect addition to a heavy TV stand.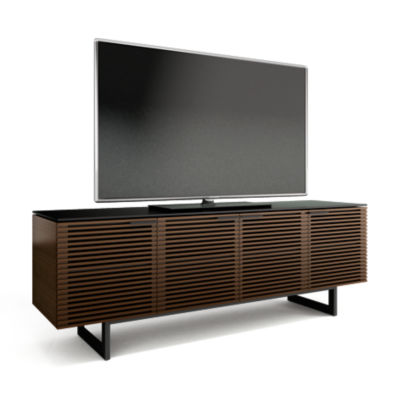 The Corridor Media Center is a modern, beautiful, and multi-functional media cabinet that is well-suited for anyone who wants to conceal components without losing use of the remote control (and while keeping an exquisite sense of style). For a crisp, clean entertainment center, look to the Corridor by BDI.
Features:
79.25" w x 28.25" h x 20.25" d
Supports up to an 85" flat screen TV
Louvered doors allow passage of sound and remote control signals
Center doors hide single large compartment with adjustable shelf
Media storage drawer
Steel legs
Optional concealed wheels are included
Materials:
Natural wood veneer
Satin stainless steel base
Interior shelves are steel
Top is micro-etched, scratch-resistant, fingerprint-resistant tempered glass
Dimensions:
79.25" w x 27.75" h x 21.25" d

Removable Back Panel
This home theater cabinet is innovatively engineered in a unique way so that the back can be removed effortlessly for easy access to components and connections. Need to accommodate a very deep component? The back panel can be left off the cabinet without sacrificing any structural rigidity, allowing the component to extend from the back as needed.

Hidden Wheels
Concealed wheels are built into this unit's leg assemblies. This means the TV stand can be moved (even if fully loaded) away from the wall by one person for easy access to cables and connections. Levelers allow the unit to be raised off of its wheels to secure it in place.

Cable Management
BDI home theater furniture is engineered to keep the usual tangle of cables and connections neatly under control. This cabinet features removable back panels for easy access to the rear of components. Integrated routing channels provide space for speaker and TV cables to be neatly concealed. You'll be able to gather and secure all cables out of sight by using the supplied Velcro® closures.

Integrated Levelers
Floors can be quite uneven and your home theater needs to be level for optimum performance. This home theater cabinet includes integrated levelers that are readily accessible from inside the cabinet, allowing it to be lifted up off of its wheels to secure it in place if desired.

Adjustable Shelves
Because components come in many shapes and sizes, This TV stand features shelves that can be adjusted to accommodate a wide range of systems. Shelves rest on unique steel shelf pins, which are rubber-padded to minimize vibration of components, and high-quality threaded inserts allow you to readjust shelf positioning as needed. BDI home theater cabinet shelves are adjustable in 1.25-inch (32 mm) increments.

Flow-Through Ventilation
In order to perform at peak levels, your components not only need to look cool, they have to stay cool. This cabinet facilitates airflow through generous ventilation slots integrated into the bottom panel, wood shelves and removable back panels. Cooler air is drawn in from the bottom of the cabinet, while hot air is naturally expelled out the back.

Tempered Glass
Practically all of the glass used by BDI is tempered glass. Tempered glass is virtually shatterproof and four to five times stronger than standard glass. When used for shelves, tempered glass is strong enough to support the heaviest components and provides a high degree of durability.

Precision Hardware
This TV stand features the finest quality materials and finishes. Sturdy construction and steel or interlocking-panel supports provide a strong foundation for your home theater. Additionally, BDI specifies only the finest European-style hardware. Door handles and other metal details are beautifully finished. The unique soft-close hinges on most door assemblies are fully adjustable to ensure that doors hang evenly, swing smoothly and close gently.
About the Manufacturer
Thoughtful design; sleek lines; material quality that is without peer. BDI was founded in 1984 by Bill Becker with the goal of making top-notch modern furniture design accessible to the public. They've succeeded. With the most functional, well-engineered, and attractively designed TV stands on the market, BDI has raised the bar to an impressive height. Features like flow-through ventilation, IR-friendly glass, integrated wheels, and removable back panels are just a few of the innovative ways BDI has discovered to make the TV stand that much better. Today, BDI is best know for its home entertainment systems, but it has also applied its vision and craftsmanship in its lines of tables, shelving, and mirrors. BDI is located in Chantilly, Virginia.
Warranty
BDI home theater furniture is warranted for 3 years from the date of purchase.