Diffrient Smart Plus Chair
by Humanscale
Designed by Niels Diffrient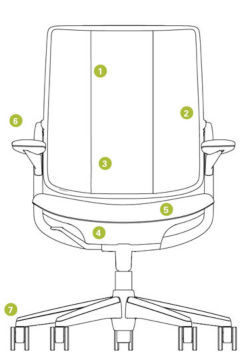 With a highly breathable mesh back that's as tailored as most good shirts and a weight-sensing no-adjust recline, the Diffrient Smart Chair from Humanscale and legendary designer Niels Diffrient is a wonderful example of how technology can be utilized to make life simpler for people.
Diffrient Smart is also Living Product Certified, meeting the most rigorous sustainable manufacturing criteria to date. This means that Diffrient Smart is climate, water and energy positive. Every time we make these products the planet is better off. With a mission to create a healthier world, Humanscale is proud that over 60% of their products are certified net positive.
Ease Of Use
Featuring Humanscale's weight-sensitive, mechanism-free recline, Smart automatically adjusts to the body weight of each sitter to provide perfect recline support. Using the laws of physics, all the user has to do is sit and the chair will provide the correct amount of tension for their shape.
Linear Visual Design
Free of manual controls, Diffrient Smart has a striking, sleek aesthetic, and its U-shaped back makes it the perfect fit for any high-design environment. With linear lines in the backrest and strong mesh for maximum support, it's the ideal task chair for the modern, active workspace.
Tailored Backrest
To ensure every person who sits in Diffrient Smart would have perfect lumbar support, Diffrient created a tri-panel mesh backrest to automatically adapt to the user's needs. Eliminating the need for complicated adjustments and external lumbar devices, Diffrient Smart uses Form-Sensing Mesh technology for easy, ongoing comfort.
What's To Like:
Self-Adjusting Recline
The finely counter-balanced recline mechanism takes your height and weight into consideration and provides the right amount of support through the entire range of motion - one major reason this chair is "smart."
Designed for Additional Weight Support The same great features of the classic Diffrient Smart, but with an upgraded weight capacity of 400 lbs.
Pivoting Backrest
The edge of the backrest flexes during recline to adjust to your position and the pressure you're putting on the top of your back. This also provides additional lumbar support.
Form-Sensing Mesh Back
Three panels of non-stretch mesh are formed to body contours and automatically adjust to provide lumbar support. The mesh is low-abrasion so it won't wear out your clothing. It's modular, so it can be easily replaced if need be.
Cylinder
Adjusts to fit 95% of the people who could ever sit in the chair. It'll more than likely fit you if you're between 5'0" and 6'4" in height. If you have any doubts as to whether the Smart Chair is a fit for you, call us at (800) 260-8420 and we'll help you out!
Contoured Seat Cushion
Large contact area with sculpted shape reduces pressure points by matching the seated form. It's modular, so it can be easily replaced if necessary.
Body Fit
The seat height has a 5" range of adjustment, while the seat depth features a 3" range of adjustment.
Casters
The Smart Chair's casters are 3" in diameter and can be chosen to work best with carpet or hard floors. The hard floor casters are softer, and work well with both types of flooring in general.
More Information about the Diffrient Smart Chair:
Seat pan adjusts 3"
Seat height adjusts 5"
Choose between armless, fixed-height arms, or fully-adjustable arms
If chosen, high-performance armrests adjust 5" in height, and also adjust inwards and outwards
Modular cushions for easy replacement
GREENGUARD Indoor Air Quality and GREENGUARD Gold certified
ANSI/BIFMA level® certified
Recycled Content: 39% post-consumer, 23% pre-consumer
Net Positive certification means each Smart produced offsets global pollution.
D

esigned for easy disassembly with clear recycling instructions
Dimensions
Environmental Information
Like all Humanscale products, the Diffrient Smart chair was designed with a constant and genuine focus on its environmental impact at every stage of its development. For us, the best designs in the world achieve more with less, and sustainability is the natural result of this focus.
The Diffrient Smart chair's lightweight design minimizes the environmental impact of its shipping. Its use of highly recyclable aluminum and its simple, modular design makes it easy to disassemble and maintain rather than replace the chair completely. The Diffrient Smart chair is GREENGUARD Indoor Air Quality, GREENGUARD Gold and level® 2 certified.