Eames Aluminum Group Executive Chair by Herman Miller, Leather Upholstery
designed by Charles and Ray Eames
Herman Miller introduced the Eames Aluminum Group in 1958 as Charles and Ray Eames' response to the need for high-quality indoor-outdoor furniture. It soon moved inside exclusively. Herman Miller celebrates the chair that came in from the cold. Available in management, executive and side chair models, this design remains a classic of style and comfort.

This high-back executive chair utilizes a lightweight aluminum frame with suspended upholstery, 5-star base with casters, tilt-swivel mechanism and seat-height adjustment. The leather options provide luxuriously comfortable seating.

This is the kind of chair that belongs in the corner office or behind the biggest desk; the kind of chair that demands respect, while at the same time never being ostentatious or pretentious. It's simple, it's sleek and cool and retro, and it's designed to build a subtle picture of prestige. It also happens to be beautiful. Of course, this is also a flexible chair, and it doesn't have to be used behind a desk. While that is where it was designed to go, there are other places that will work, including lobbies and public spaces, and even homes. The high back of the chair makes it perfect for the desk, but that shouldn't be a limiting feature.

Also available in a more affordable fabric version. See the entire Eames Aluminum Chair Group.
---
Leather Options:
Stock Leather
Chromium free and from Austria this stock Herman Miller leather is a winner for most. With a matte, soft feel this is the most popular leather used on Herman Miller upholstered items.
Open Line Leather
Austrian by birth, yours by choice. Open Line leather is closest to the stock Herman Miller leathers but available in a wider array of colors.
Dream Cow Leather
With a gentle calfskin grain (it's not calfskin though, its European full grain aniline dyed cowhide), this leather is soft and comes in many great colors to accent your decor. This is a leather of great versatility, perfect when Royal Hide is out of budget, but where the look is wanted.
Metallic Dream Cow Leather
A gentle calfskin grain (again, not calfskin but European full grain aniline dyed cowhide), infused with metals and soft shine, on cowhide for huge versatility. Updated, offbeat, moody colors.
All Grain Leather
Not too big - not too small - just "All Grain". Color and quality together wedding grain and color, always with a feeling of luxury. European full grain aniline dyed cowhide powered by Crypton, "All Grain" becomes an easy choice for high traffic areas and commercial offices.
Royal Hide Leather
This versatile leather is the most beautiful of its kind. The color range is huge, reflecting its broad applicability. It will develop a rich patina over time, making it a great heirloom, eliminating the need for reupholstery. A European full grain aniline dyed cowhide leather with no limits - sky, earth, sea.
Caster Option:
2" chrome soft double wheel casters, hard floor or carpet. Should not be used on floor mats over carpet.
Seat Height Adjustment Options:
Manual seat height adjustment
Pneumatic seat height adjustment with tilt lock
The Herman Miller Eames Aluminum Executive Chair is also known by the following manufacturer Item Numbers: EA337P, EA337.
Materials:
Lightweight aluminum frame with suspended upholstery.

Dimensions:
Manual Adjustment
Overall: 41.25" h x 23" w x 18" d
Seat Height: 17-19.75"
Seat Depth: 17"
Max Arm Height: 27.5"
Pneumatic Adjustment
Overall: 42" h x 23" w x 18" d
Seat Height: 17.5-19.5"
Seat Depth: 17"
Max Arm Height: 27.75"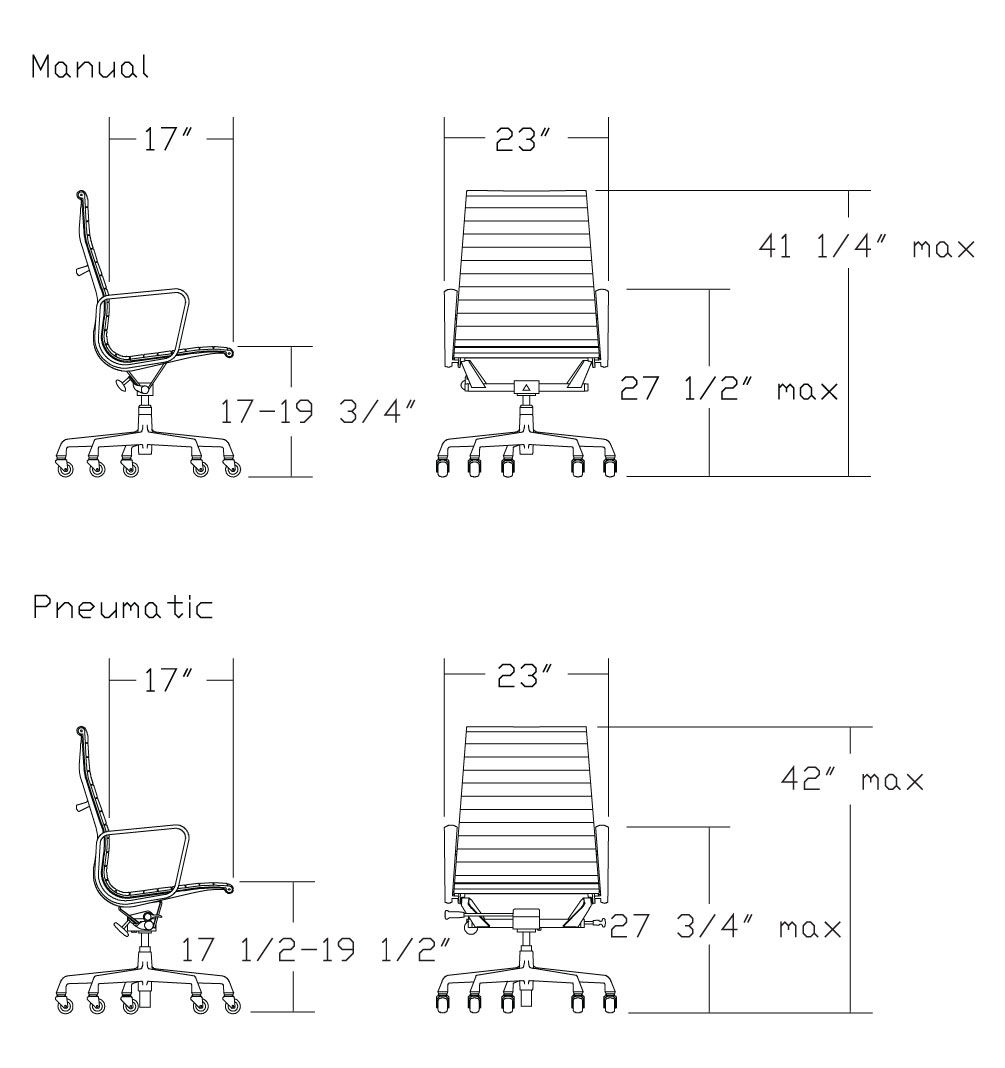 Adjustment Instructions
Eames Aluminum Series Adjustment Instructions
Care Instructions
With regular care and maintenance, your Herman Miller product will provide many years of superior performance and satisfaction. To maintain quality, please follow the cleaning procedures outlined here.
The instructions for the care and maintenance of Herman Miller products are provided to you as a service. No warranty is implied since results may vary.
Polished Aluminum
For normal cleaning, apply a pre-softened paste wax to polished aluminum components following the manufacturer's instructions. In humid atmospheres near salt water, apply the wax once a month. In other areas, apply wax every three months to maintain the appearance of the aluminum.
Coated Metal
For normal cleaning, wash coated metal surfaces with a soft cloth soaked in detergent and warm water; rinse thoroughly and dry. Remove scuff marks from low-gloss coatings with pre-softened paste wax, following the manufacturer's instructions. Remove scuff marks and scratches from high-gloss coatings using automotive polishing compounds, either liquid or paste. After polishing, apply a pre-softened automotive paste wax to restore original sheen. For assistance in determining the appropriate color and gloss for Herman Miller touch-up paint, contact your Herman Miller Customer Service Representative.
Fabric
For normal cleaning, vacuum upholstery fabric using an upholstery attachment. If further cleaning is needed, dry-clean or spot clean fabric with solvent cleaner.
Do not brush fabric or use a vacuum attachment with a rotary brush. Brushing may permanently damage the nap or change the character of the fabric.
Do not apply water or any liquid solution. Wetting the fabric with any liquid solution may result in permanent damage.
Vinyl Upholstery
For normal cleaning, wash vinyl upholstery with a soft cloth or soft-bristled brush lathered with mild, nonabrasive soap and lukewarm water. Before the surface dries, wipe with a clean, dry cloth to remove any residue. This procedure may be repeated to remove stubborn dirt or stains.
Ink spots can sometimes be removed by washing with soap and water followed by isopropyl alcohol.
Do not use any cleaning method that is not listed above, as other methods may attack the vinyl and cause eventual degradation.
Leather
For normal cleaning, vacuum or dust frequently with a clean, dry cloth. If leather is soiled, it can be wiped with a damp soft cloth and a lather of any mild soap and a minimum amount of lukewarm water. Do not spot clean leather; clean the entire surface. Wipe clean with a damp cloth and dry with a clean, soft cloth.
For spots and spills, wipe excess liquid immediately with a clean cloth or sponge; let the leather air dry. If the spot is still visible, further cleaning may be necessary. Sponge the entire surface—seat, back, or chair arm—with clean, lukewarm water. Let the leather air dry; never use a hair dryer or other heat source to dry leather.
For stubborn spots and stains, apply a mild, nonabrasive soap solution with a clean, wet sponge. Rinse well and let air dry. For butter, oil, or grease, wipe the leather with a clean, dry cloth and let the remainder of the oil dissipate into the leather. Do not apply water or try to wash a grease spot.
Do not use saddle soap, cleaning solvents, oils, furniture polishes, varnishes, abrasive cleaners, detergents, or ammonia on leather; they will ruin the finish, causing it to become sticky and cracked.
Herman Miller Warranty
General Warranty