Eames Aluminum Group Management Chair by Herman Miller, Leather Upholstery
designed by Charles & Ray Eames
At A Glance: The Eames Aluminum Group Management Chair is one of the most important contributions Charles and Ray Eames made to modern design. The sleek look of the chair, its minimalism and classic lines, all combined to create an iconic look and a breathtaking profile. Surely amongst the most renowned of the mid-century design pieces.

What's To Like: This is a beautiful piece of modern art...for you to sit in. How often do you get an opportunity to just cold sit on a world-renowned work of art? But it's not just beautiful. This chair is also adjustable and suited to working long hours at a desk. Comfortable and adaptable to lots of different situations and office styles, this is a chair for all seasons. In the boardroom, behind a desk, and under your butt, it always looks and works great.


The Bottom Line: This is an all time classic. And while the price is a bit higher than your average office chair, this work of art is worth every penny. Comfortable, gorgeous, and famous.
---
Seat Height Adjustment Options
Manual seat height adjustment
Pneumatic seat height adjustment with tilt lock
The Herman Miller Management Chair is also known by the following manufacturer Item Numbers: EA335P, EA335, EA334.
---
Materials:
Lightweight aluminum frame with suspended upholstery.

Dimensions:
Manual Adjustment
Overall: 34" h x 23" w x 18" d
Seat height: 17-19.75"
Max Arm Height: 27.5"
Pneumatic Adjustment
Overall: 34.5" h x 23" w x 18" d
Seat height: 17.5-19.5"
Max Arm Height: 27.5"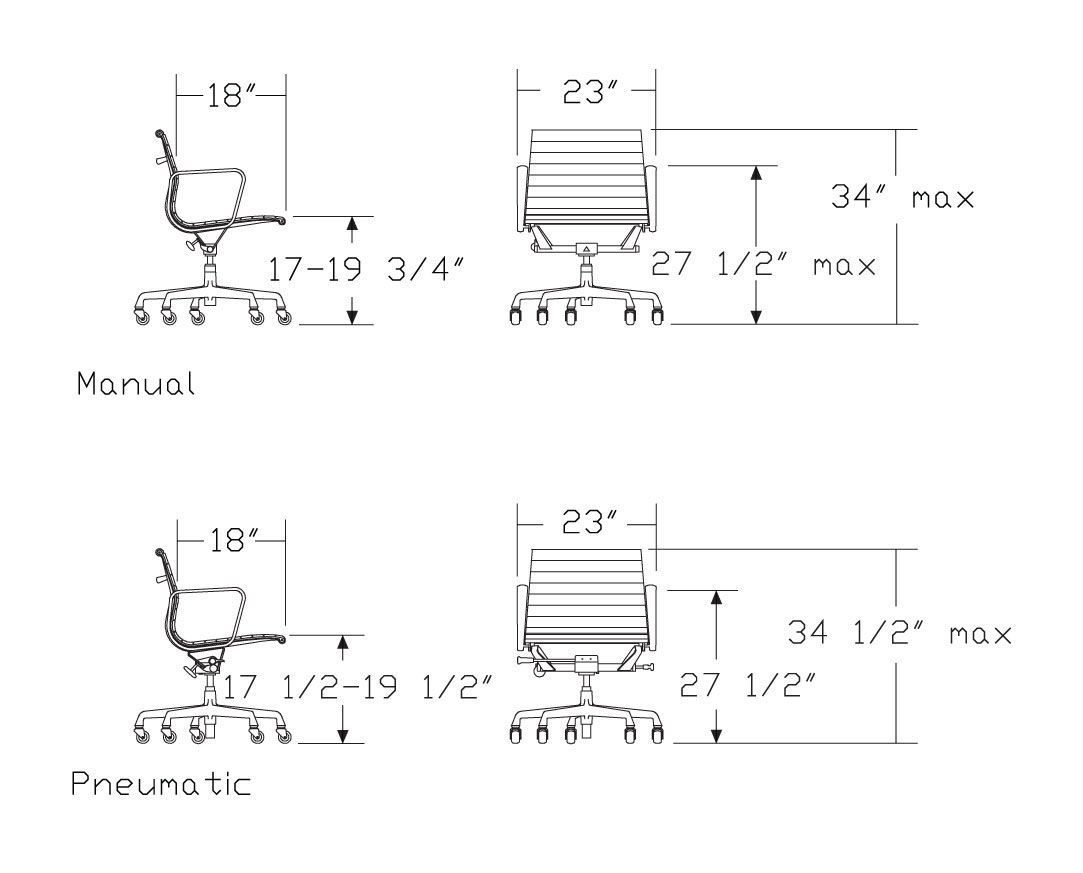 Adjustment Instructions
Eames Aluminum Group Chair Adjustment Instructions
Herman Miller Warranty
General Warranty
Care Instructions
With regular care and maintenance, your Herman Miller product will provide many years of superior performance and satisfaction. To maintain quality, please follow the cleaning procedures outlined here.
The instructions for the care and maintenance of Herman Miller products are provided to you as a service. No warranty is implied since results may vary.
Polished Aluminum
For normal cleaning, apply a pre-softened paste wax to polished aluminum components following the manufacturer's instructions. In humid atmospheres near salt water, apply the wax once a month. In other areas, apply wax every three months to maintain the appearance of the aluminum.
Coated Metal
For normal cleaning, wash coated metal surfaces with a soft cloth soaked in detergent and warm water; rinse thoroughly and dry. Remove scuff marks from low-gloss coatings with pre-softened paste wax, following the manufacturer's instructions. Remove scuff marks and scratches from high-gloss coatings using automotive polishing compounds, either liquid or paste. After polishing, apply a pre-softened automotive paste wax to restore original sheen. For assistance in determining the appropriate color and gloss for Herman Miller touch-up paint, contact your Herman Miller Customer Service Representative.
Fabric
For normal cleaning, vacuum upholstery fabric using an upholstery attachment. If further cleaning is needed, dry-clean or spot clean fabric with solvent cleaner.
Do not brush fabric or use a vacuum attachment with a rotary brush. Brushing may permanently damage the nap or change the character of the fabric.
Do not apply water or any liquid solution. Wetting the fabric with any liquid solution may result in permanent damage.
Vinyl Upholstery
For normal cleaning, wash vinyl upholstery with a soft cloth or soft-bristled brush lathered with mild, nonabrasive soap and lukewarm water. Before the surface dries, wipe with a clean, dry cloth to remove any residue. This procedure may be repeated to remove stubborn dirt or stains.
Ink spots can sometimes be removed by washing with soap and water followed by isopropyl alcohol.
Do not use any cleaning method that is not listed above, as other methods may attack the vinyl and cause eventual degradation.
Leather
For normal cleaning, vacuum or dust frequently with a clean, dry cloth. If leather is soiled, it can be wiped with a damp soft cloth and a lather of any mild soap and a minimum amount of lukewarm water. Do not spot clean leather; clean the entire surface. Wipe clean with a damp cloth and dry with a clean, soft cloth.
For spots and spills, wipe excess liquid immediately with a clean cloth or sponge; let the leather air dry. If the spot is still visible, further cleaning may be necessary. Sponge the entire surface—seat, back, or chair arm—with clean, lukewarm water. Let the leather air dry; never use a hair dryer or other heat source to dry leather.
For stubborn spots and stains, apply a mild, nonabrasive soap solution with a clean, wet sponge. Rinse well and let air dry. For butter, oil, or grease, wipe the leather with a clean, dry cloth and let the remainder of the oil dissipate into the leather. Do not apply water or try to wash a grease spot.
Do not use saddle soap, cleaning solvents, oils, furniture polishes, varnishes, abrasive cleaners, detergents, or ammonia on leather; they will ruin the finish, causing it to become sticky and cracked.