Herman Miller Eames Aluminum Outdoor Lounge Chair
designed by Charles and Ray Eames
Sharing the same graceful lines of the original Aluminum Group, the Eames Aluminum Lounge Chair is now suitable for outdoor use! The strong, lightweight aluminum frame keeps things in check while still making it easy to move around, and the durable weave fabric is up to the task of standing up to the elements. Whether you're lounging on your deck in a pair of seersucker shorts or beside the pool in a soaking wet bathing suit, the Eames Aluminum Outdoor Lounge Chair is ready for you to relax on.



Details:
Overall: 33.9" h x 24.1" w x 28.5" d
Lightweight, outdoor-ready aluminum frame
Seat is made from quick-drying polypropylene/copolyester
Made from 64 percent recycled materials, and is itself 95 percent recyclable

The Herman Miller Eames Aluminum Outdoor Lounge Chair is also known by the following manufacturer Item Number: EA516
Dimensions
Total Height: 33.88"
Seat Height: 17"
Width: 24.13"
Depth: 28.5"
Packaging Dimensions: 43" x 27" x 32"
Package Weight: 41 lbs.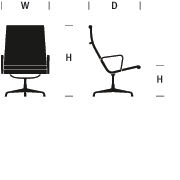 The Design Story
Charles and Ray Eames have built their legacy through an enormous range of incredible work. They've designed chairs, tables, toys, films, and furniture every every kind. With every piece of art and furniture they created, they seemed to do something new and exciting. That is certainly true of the now world famous Aluminum Group Chairs.
Design enthusiasts have known all about these chairs for decades. They've been the centerpiece of many a boardroom, and the focal point of many a home office, dining room table, or living room. But there's something about the story of these chairs that a lot of people actually don't know - these chairs were originally developed to be used both indoor and out, and in fact were developed for a single customer and a single home. These indoor/outdoor hybrids were simply too good to keep to themselves, so soon they were reproduced as indoor only chairs and sold to great acclaim.
But Herman Miller has always been interested in resurrecting the original Eames Aluminum Outdoor Chairs, and recently they've been able to do so. Sticking closely to the original design of Charles and Ray, and going into the past for blueprints and classic style, we are now proud to offer you the new-again Eames Aluminum Outdoor Chairs!
The chairs come in two distinct models. The first is the traditional Side Chair, which has a shorter pair of brackets and is perfect for sitting at a table. The second is the Lounge Chair, which is longer and more expansive, and is perfect for reclining and, yes, lounging about in the great outdoors. The chairs work great paired together or in separate groups, and when you match them with Eames Aluminum Outdoor Group Tables and Ottomans, you've got a real set of serious furniture.
The form of the chair is practically identical to that of its indoor cousin. You still see the same sweeping long lines, the same sturdy construction, and the same aluminum framing that has made the chair so iconic and, or course, given them their name. The major difference, of course, is that this chair is perfect for use in the great outdoors. The traditional leather of the aluminum group has here been replaced by a tough, rough and ready fabric weave that resists the elements and at the same time keeps you comfortable, relaxed, and cool. The standard aluminum frame of the chair keeps the product strong, and keeps you supported at all times. The unique engineering accomplishment of the Eames Aluminum Outdoor Side Chair (as well as of course the Lounge Chair) is that you don't have to have a lot of bells and whistles to get perfect support. With the strength and give of the fabric measured precisely, this chair provides all the strength and comfort of a traditional fine office chair with much less material. You get great suspension from the fabric, which hangs between the two "poles" of the aluminum framing.
No matter what your outdoor needs are, this is a chair that can meet them. Barbecues, pool decks, summer cocktails hour, simple relaxation - this is the right chair for your out of doors needs.
You can pair the side chair, as well as the lounge chair, with a fine Eames Aluminum Outdoor Ottoman, which raises the level of comfort a few more notches and gives the set a complete feel. Body in recline, feet up, cold drink within reach - isn't this how summer should feel?
The story behind the creation of these chairs is serendipitous, and rather fascinating. In a small town in Indiana, Columbus to be exact, J. Irwin Miller was building a new house for his family. A very wealthy industrialist, he commissioned an absolute dream team of artists, architects and designers, each of whom brought their unique sensibility to a different part of the home. He asked world famous architect and designer Eero Saarinen to create the design of the building. Saarinen made his name working with his famous father, but quickly became an amazing independent architect. He desiged the TWA terminal at JFK Airport, Dulles International Airport, and perhaps most famously the Gateway Arch in St. Louis. Oh, yes, and also the Miller House!
For the interior design of the home, Miller contacted Alexander Girard. Girard was an architect by training, but he made his name in fabrics, working for Herman Miller and in concert with Charles and Ray Eames to design beautiful pieces. The landscape artist was Dan Kiley, a man with more than a few green thumbs, and a very good idea of how to put them to use. So it can hardly be surprising when faced with the enormity of talent already assembled, Miller turned to Charles and Ray to design for him a set of simple outdoor chairs.
Of course, for Charles and Ray, nothing was simple when it came to the process of imagining, designing, and building the furniture they created together. The first thing to consider is the function of the piece. This was a chair that had to work just as well indoors as out, and that had to do a lot in terms of comfort and support without much in the way of material - nobody likes an overstuffed and therefore often overheated piece of outdoor furniture. They also had to create something that would be in line with the modern taste of the rest of the house - something worthy of Saarinen and Girard in other words, which would be daunting for anyone. Next you must choose your materials. For Charles and Ray, the moment they decided to go with aluminum was at once a great breakthrough and a real stomach-turner. "When you've committed yourself to casting, you've committed yourself to the kind of freedom that can really give you the willies," Charles said. "At that moment you find yourself face to face with sculpture, and it can scare the pants off you."
There was very little that Charles and Ray were not capable of doing, and sculpture was very emphatically not one of them. The design they came up with was not only sublime enough for the home of Mr. Miller, it was great enough to be a mainstay of thousands of homes all across the world for the next 6 decades. The design was fresh, beautiful, and functional in every way.
The basic form of the chair is dictated by the long (very long in the case of the Eames Aluminum Outdoor Lounge Chair) aluminum frames that border each side of the chair. The material is slung between these two poles at a precise tension and angle, creating a pocket that is unrivaled in terms of comfort and support among typical outdoor chairs. The twin towers of the chair are kept separate and in good order by brackets, also made of aluminum, that are called antlers. All the essential aspects of the chair are executed with two materials, and with just a few major elements. This is the ultimate in design for a modern design team like Charles and Ray - getting the absolute most out of the absolute least.
The original chairs were built with a polyester material that was developed right here at Herman Miller. Since then other and better outdoor materials have been pioneered, and so today's Eames Aluminum Outdoor Group Chairs use material that is stronger and more capable. The design has been recalled from the past, and one of the materials has been tastefully and appropriately updated with comfort and functionality in mind. Comfortable, functional, and beautiful - that's the Eames Aluminum Outdoor Group Chairs. That's Charles and Ray Eames.
If leather is soiled, it can be wiped with a soft, damp cloth using a lather of any mild soap with lukewarm water. Do not spot clean leather; clean the entire surface. Wipe clean with a damp cloth and dry with a clean, soft cloth.

Vacuum fabric as needed using an upholstery attachment

Vacuuming picks up dust and reduces the need for professional cleaning
Warranty: With limited exceptions, Herman Miller products are covered by a 12-year warranty that includes parts and labor. And when warranty work is performed in the U.S. and Canada, it covers the cost of service.
We're an authorized Herman Miller retailer. This means we're official. We sell new factory-direct chairs complete with Herman Miller's own 12-year warranty. You can purchase confidently from Smart Furniture knowing you'll be receiving genuine Herman Miller product.