Eames® Molded Wood Side Chair with Wire Base
by Herman Miller
designed by Charles and Ray Eames
At A Glance:
This is the chair they would have made back in the '50s if that darned plywood would have cooperated. And now, with the help of 3-D veneer technology, Herman Miller has figured out how to make the Eames' vision work. The result of a process that gives wood veneer the extra flexibility it needs to be molded into the complex curves of a single shell, the Molded Wood Side Chair with Eiffel Tower Base stands as a fitting compliment to the great designers who dreamed it up.
What's to Like:
This chair is iconic to the extreme. Not simply "Eames-inspired," the Molded Wood Side Chair is the realization of their very idea of what could be possible with molded plywood.
High quality, lightweight hardwood inner plies are sandwiched between natural wood face veneers for exceptional strength and beauty.
The juxtaposition of the Eames Molded Wood Side Chair's wood seat and metal base makes for exceptional visual balance and grace.
The technology used is incredible. "3-D veneer technology" means that the wood is sliced into super-thin strips and then glued back together. The resulting flexibility reduces the thickness needed for the veneer and allows it to be molded in ways that it never could before.
Bottom Line:
The Eames Molded Wood Side Chair is comfortable, elegant, and features a familiar - yet updated - form. This Herman Miller side chair is for fans of mid-century icons and lovers of historic design alike.
The Herman Miller Eames Molded Wood Side Chair is also known by the following manufacturer Item Number: DWSR.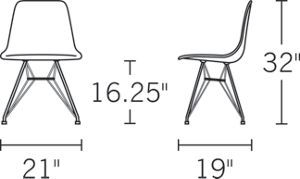 Materials:
Single-piece molded wood shell with waterfall edges
3 veneer options
Base and legs made of metal with 2 finish options
Dimensions:
Overall: 32" h x 21" w x 19" d
Seat height: 16.25"