Herman Miller Eames Soft Pad™ Executive Chair, Leather Upholstery
designed by Charles and Ray Eames
The Eames Soft Pad Executive Chair is another example of Charles and Ray Eames combining form and function into one amazing chair. Like other pieces in the soft pad group, this Executive Chair has a sleek base and 2" thick seat pads that provide outstanding comfort. The lightweight aluminum frame sits on a 5-star base with a tilt-swivel mechanism, seat height adjustment and casters for enhanced mobility. This model of the Eames Soft Pad Executive Chair is available in a variety of leather upholstery options. The upholstery provides outstanding comfort and a sleek contrast of materials between metal and supple leather.

This executive chair was made especially for the office, whether it's a home office or in the workplace. Though it could be used effectively in the home, the look and feel of the chair make it clear that this is a serious chair, a work chair, a prestigious chair for any office - as Charles and Ray Eames intended. Featuring a taller back than others in the collection, with three back cushion segments, the chair is never overbearing or intimidating; that's not the way Charles and Ray Eames built their furniture. They didn't believe in exclusion of any kind when it came to design. They believed that all types of people should have access to great design in their homes and offices, and that idea drove them throughout their careers. The Eames Soft Pad Executive Chair is just one more example of design that looks amazing, feels great, and is definitely attainable.

Also available fabric upholstery. See the entire Eames Soft Pad Chair collection.

What's To Like:
The Eames Soft Pad Executive Chair is high backed and stately, but not dated or aged in any way. It looks as fresh and attractive today as it did when it first came off the line in 1969. It's funny; to get a contemporary office chair, one that's modern and cutting edge yet technologically advanced and ergonomic, you can go back four decades and get exactly what you want. The Eames Soft Pad Executive Chair. This is a chair for the corner office the big desk, the important boardroom. While of course it can also be used in the regular office and the meeting room, the grandeur of the chair is best presented in equally prestigious environs. The Eames Soft Pad Executive Chair has in its name its ultimate use; as the chair of the executive. The prestige of the chair and its rich, luxurious leather combines with the shine and newness of the polished aluminum to create a beguiling and undeniably gorgeous chair. It's perfect for the office.
Details:
2"-thick upholstered foam cushions
5-star aluminum base, lightweight aluminum frame
2" casters for carpet or hard floor mobility. Should not be used on floor mats over carpet.
Choose from Manual seat height adjustment or Pneumatic seat height adjustment with tilt lock
Weight Capacity 300 lbs
Leather Options:
Stock Leather
Chromium free and from Austria this stock Herman Miller leather is a winner for most. With a matte, soft feel this is the most popular leather used on Herman Miller upholstered items.
Open Line Leather
Austrian by birth, yours by choice. Open Line leather is closest to the stock Herman Miller leathers but available in a wider array of colors.
Prone Leather


Prone is a premium full-grain leather from Maharam, produced in a boutique tannery in Northern Italy. Prone is minimally finished to highlight the natural beauty of leather and the inherent quality of superior raw materials. The texture of the grain offers a supple hand, while a light silicone finish lends protection against wear.

Dream Cow Leather
With a gentle calfskin grain (it's not calfskin though, its European full grain aniline dyed cowhide), this leather is soft and comes in many great colors to accent your decor. This is a leather of great versatility, perfect when Royal Hide is out of budget, but where the look is wanted.
Caster Options:
2" single wheel casters, hard floors or carpet
2" chrome soft double wheel casters, hard floors or carpet
2" black painted hard double wheel casters, carpet
2" chrome hard double wheel casters, carpet
Seat Height Adjustment Options:
Manual seat height adjustment
Pneumatic seat height adjustment with tilt lock
The Herman Miller Eames Soft Pad Executive Chair is also known by the following manufacturer Item Numbers: EA437, EA437P.
---
Dimensions:
Manual Adjustment
Overall: 41.25" h x 23" w
Seat Height: 19.5-22.25"
Seat Depth: 15.5"
Max Arm Height: 27.5"
Pneumatic Adjustment
Overall: 41.75" h x 23" w
Seat Height: 20.25-22.25"
Seat Depth: 15.5"
Max Arm Height: 27.5"
Materials:
Lightweight aluminum frame and 2"-thick upholstered foam cushions.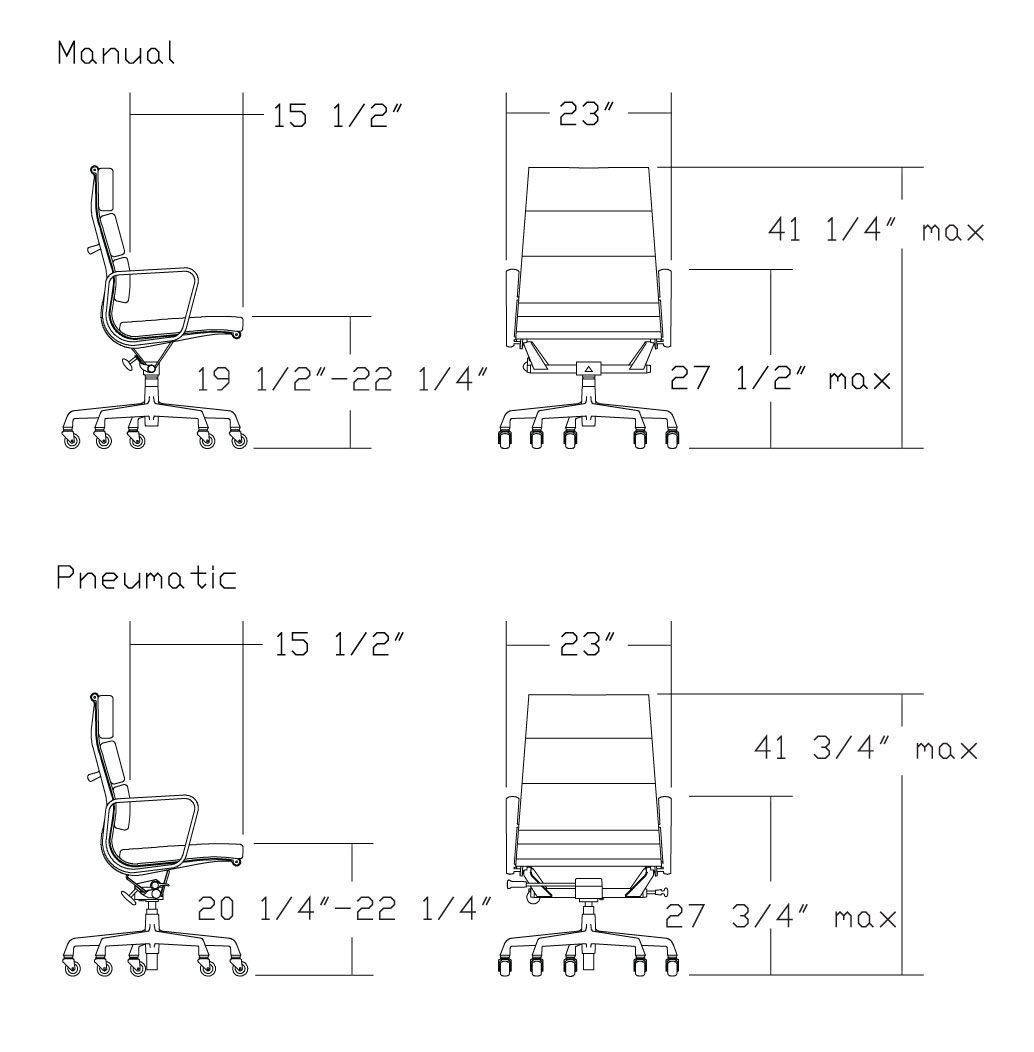 The executive chair is even more rigidly tied to the workplace then the management chair. It has a high back and more padding, making it both more impressive, prestigious-seeming and comfortable. Because the pads go all the way up the back and even to the neck and head, this is a chair meant almost exclusively for the working day. The name, again, says it all; this is a big chair, and it's meant for the big offices, the boardrooms and conference tables. It comes on rollers, like the management, and has all of it's functionality with little of it's ability to go into the home and look inconspicuous.
Read the entire design story behind the Eames Soft Pad Chairs.
Adjustment Instructions
Eames Soft Pad Chair Adjustment Instructions
Herman Miller Warranty
General Warranty
Care Instructions
With regular care and maintenance, your Herman Miller product will provide many years of superior performance and satisfaction. To maintain quality, please follow the cleaning procedures outlined here.
The instructions for the care and maintenance of Herman Miller products are provided to you as a service. No warranty is implied since results may vary.
Polished Aluminum
For normal cleaning, apply a pre-softened paste wax to polished aluminum components following the manufacturer's instructions. In humid atmospheres near salt water, apply the wax once a month. In other areas, apply wax every three months to maintain the appearance of the aluminum.
Coated Metal
For normal cleaning, wash coated metal surfaces with a soft cloth soaked in detergent and warm water; rinse thoroughly and dry. Remove scuff marks from low-gloss coatings with pre-softened paste wax, following the manufacturer's instructions. Remove scuff marks and scratches from high-gloss coatings using automotive polishing compounds, either liquid or paste. After polishing, apply a pre-softened automotive paste wax to restore original sheen. For assistance in determining the appropriate color and gloss for Herman Miller touch-up paint, contact your Herman Miller Customer Service Representative.
Fabric
For normal cleaning, vacuum upholstery fabric using an upholstery attachment. If further cleaning is needed, dry-clean or spot clean fabric with solvent cleaner.
Do not brush fabric or use a vacuum attachment with a rotary brush. Brushing may permanently damage the nap or change the character of the fabric.
Do not apply water or any liquid solution. Wetting the fabric with any liquid solution may result in permanent damage.
Vinyl Upholstery
For normal cleaning, wash vinyl upholstery with a soft cloth or soft-bristled brush lathered with mild, nonabrasive soap and lukewarm water. Before the surface dries, wipe with a clean, dry cloth to remove any residue. This procedure may be repeated to remove stubborn dirt or stains.
Ink spots can sometimes be removed by washing with soap and water followed by isopropyl alcohol.
Do not use any cleaning method that is not listed above, as other methods may attack the vinyl and cause eventual degradation.
Leather
For normal cleaning, vacuum or dust frequently with a clean, dry cloth. If leather is soiled, it can be wiped with a damp soft cloth and a lather of any mild soap and a minimum amount of lukewarm water. Do not spot clean leather; clean the entire surface. Wipe clean with a damp cloth and dry with a clean, soft cloth.
For spots and spills, wipe excess liquid immediately with a clean cloth or sponge; let the leather air dry. If the spot is still visible, further cleaning may be necessary. Sponge the entire surface—seat, back, or chair arm—with clean, lukewarm water. Let the leather air dry; never use a hair dryer or other heat source to dry leather.
For stubborn spots and stains, apply a mild, nonabrasive soap solution with a clean, wet sponge. Rinse well and let air dry. For butter, oil, or grease, wipe the leather with a clean, dry cloth and let the remainder of the oil dissipate into the leather. Do not apply water or try to wash a grease spot.
Do not use saddle soap, cleaning solvents, oils, furniture polishes, varnishes, abrasive cleaners, detergents, or ammonia on leather; they will ruin the finish, causing it to become sticky and cracked.