Herman Miller Eames Soft Pad™ Management Chair, Leather Upholstery
designed by Charles and Ray Eames

At A Glance:
2" thick foam pads, curved aluminum side ribs, artistically curved arms, a 5-star aluminum base with casters, and the genius of Charles and Ray Eames ... combine all of these elements together, throw in sumptuous leather and the result is the Eames Soft Pad Management Chair. Shown with casters, the Management Chair offers optional glides as well. The chair's leather upholstery color choices give you the option of a brighter, lighter look or a more subdued, traditional piece. Tilt-swivel mechanism adds comfort to the seat's recline, and the pneumatic height adjustment option also includes tilt lock to make tasking a breeze.

Also available with fabric upholstery. See the entire Eames Soft Pad Chair collection.

What's To Like:

Distinctive Aesthetic
Unmistakable look. Soft Pad cushions add a plush, luxurious touch.

Classic and contemporary. The Management Chair's clean, trim lines makes it appropriate for all styles of decor, from contemporary homes to elegant offices to hip startups.
Inventive Comfort
Sitting comfort. Soft Pad seating adds 2-inch-thick foam cushions for comfort and a different look. Leather gives the seat a luxurious feel and look.

Durability
Strong aluminum: With one-piece, curved aluminum side ribs, a solid aluminum base, and slim arms, the chair is strong, yet lightweight and easy to move.


The Bottom Line:
The Eames Soft Pad Management Chair is versatile enough to work in almost any environment and provide unmatched comfort and style. With cleverly contrasting materials, the Management Chair brings an eye-catching look to any room ... home or office.
---
Details:
Lightweight aluminum frame
2" thick leather-upholstered foam cushions
5-star base with tilt-swivel mechanism
Leather Options:
Stock Leather
Chromium free and from Austria this stock Herman Miller leather is a winner for most. With a matte, soft feel this is the most popular leather used on Herman Miller upholstered items.
Prone Leather


Prone is a premium full-grain leather from Maharam, produced in a boutique tannery in Northern Italy. Prone is minimally finished to highlight the natural beauty of leather and the inherent quality of superior raw materials. The texture of the grain offers a supple hand, while a light silicone finish lends protection against wear.
Caster Options:
2" chrome soft double wheel casters, hard floors or carpet
2" black painted hard double wheel casters, carpet
2" chrome hard double wheel casters, carpet
Height Adjustment Options:
Manual seat height adjustment
Pneumatic seat height adjustment with tilt lock
The Herman Miller Eames Soft Pad Management Chair is also known by the following manufacturer Item Numbers: EA435P, EA435, EA434.
---
Materials:
Lightweight aluminum frame and 2"-thick upholstered foam cushions.

Dimensions:
Manual Adjustment
Overall: 34" h x 23" w
Seat Height: 19.75-22.5"
Seat Depth: 16.5"
Max Arm Height: 27.5"
Pneumatic Adjustment
Overall: 34.25" h x 23" w
Seat Height: 20.25-22.25"
Seat Depth: 16.5"
Max Arm Height: 27.5"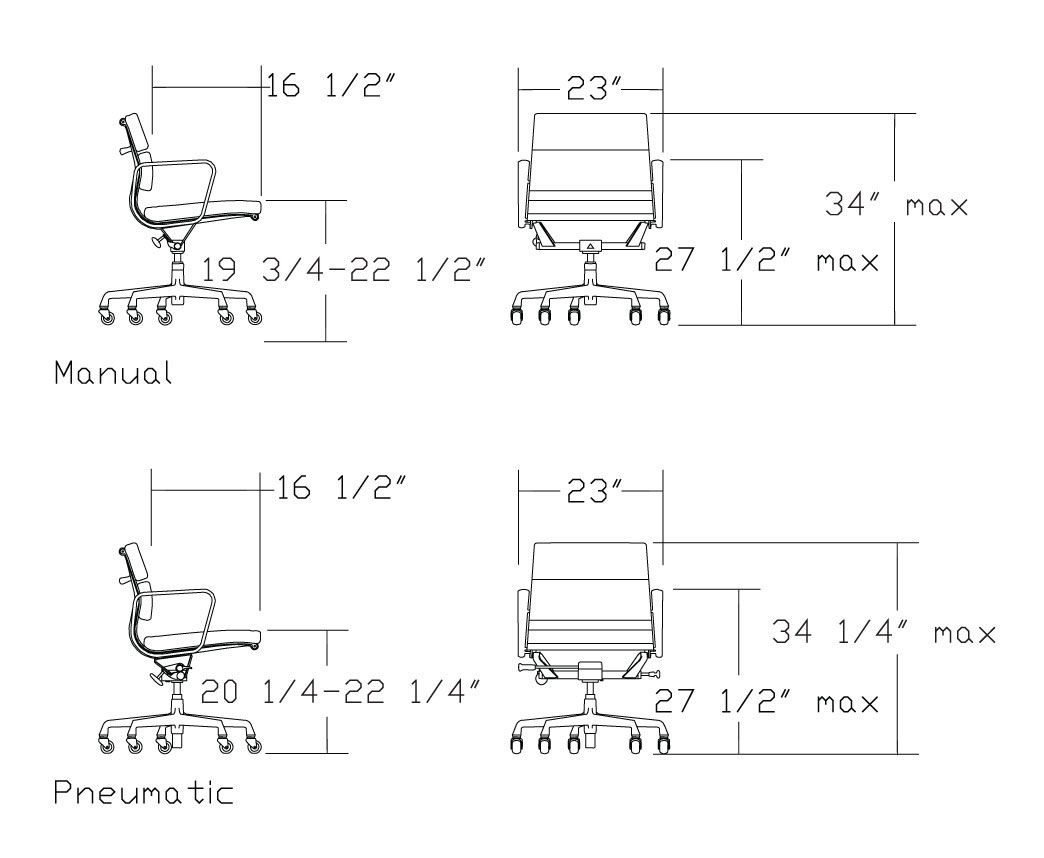 The Aluminum Group initially was designed for Irwin Miller, founder of Cummins Engines, in Columbus, Indiana. Eero Saarinen and Alexander Girard designed the Miller home and challenged Charles and Ray Eames to develop a high-quality seating product for outdoor use.
Known for their honest use of materials, the Eameses constructed the chairs with cast aluminum and first conceived of a seat frame to support stretched fabric - a synthetic mesh (woven saran). Although the mesh was discontinued shortly after its introduction, Herman Miller reintroduced a new mesh material for the Aluminum Group in 2001. Called Cygnus, it is similar to the Aeron chair's Pellicle fabric in its aeration and translucent qualities.
The seat-back suspension was a major technical achievement and represented a departure from the concept of the chair as a solid shell.
Wonderfully comfortable, the chairs became the basis for several other Eames designs, including the Soft Pad chair group.
Adjustment Instructions
Eames Soft Pad Management Chair Adjustment Instructions
Herman Miller Warranty
General Warranty
Care Instructions
With regular care and maintenance, your Herman Miller product will provide many years of superior performance and satisfaction. To maintain quality, please follow the cleaning procedures outlined here.
The instructions for the care and maintenance of Herman Miller products are provided to you as a service. No warranty is implied since results may vary.
Polished Aluminum
For normal cleaning, apply a pre-softened paste wax to polished aluminum components following the manufacturer's instructions. In humid atmospheres near salt water, apply the wax once a month. In other areas, apply wax every three months to maintain the appearance of the aluminum.
Coated Metal
For normal cleaning, wash coated metal surfaces with a soft cloth soaked in detergent and warm water; rinse thoroughly and dry. Remove scuff marks from low-gloss coatings with pre-softened paste wax, following the manufacturer's instructions. Remove scuff marks and scratches from high-gloss coatings using automotive polishing compounds, either liquid or paste. After polishing, apply a pre-softened automotive paste wax to restore original sheen. For assistance in determining the appropriate color and gloss for Herman Miller touch-up paint, contact your Herman Miller Customer Service Representative.
Leather
For normal cleaning, vacuum or dust frequently with a clean, dry cloth. If leather is soiled, it can be wiped with a damp soft cloth and a lather of any mild soap and a minimum amount of lukewarm water. Do not spot clean leather; clean the entire surface. Wipe clean with a damp cloth and dry with a clean, soft cloth.
For spots and spills, wipe excess liquid immediately with a clean cloth or sponge; let the leather air dry. If the spot is still visible, further cleaning may be necessary. Sponge the entire surface—seat, back, or chair arm—with clean, lukewarm water. Let the leather air dry; never use a hair dryer or other heat source to dry leather.
For stubborn spots and stains, apply a mild, nonabrasive soap solution with a clean, wet sponge. Rinse well and let air dry. For butter, oil, or grease, wipe the leather with a clean, dry cloth and let the remainder of the oil dissipate into the leather. Do not apply water or try to wash a grease spot.
Do not use saddle soap, cleaning solvents, oils, furniture polishes, varnishes, abrasive cleaners, detergents, or ammonia on leather; they will ruin the finish, causing it to become sticky and cracked.