Ignition Work Chair, Mid-Back with Mesh Back


by HON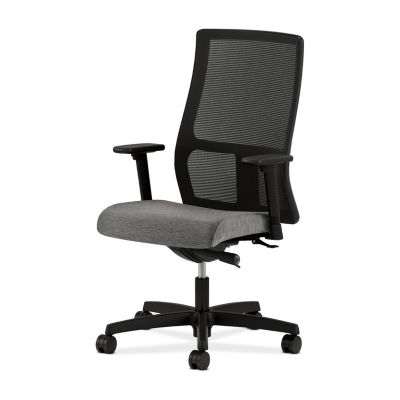 The Ignition chair fits every body type from the 5th to the 95th percentile, and easily delivers personalized support with simple-to-use adjustments. Whether you're the only user or you have multiple people sharing the chair, the Ignition chair is ready to perform.

This mid-back version of the Ignition Chair is the ideal size for a wide variety of users, with a comfortable, supportive back height that can fit short, medium and tall frames. Other features of the Ignition Mid-Back Work Chair include:

Control Options
Swivel-Tilt: perfect for those up and down throughout the day, the combined 360 swivel/tilt allows for smooth recline that helps keep everything within reach.
Synchro-Tilt: offering relaxing support, Synchro-tilt reclines at a 2-to-1 ratio, helping the seat stay level to the floor, and provides the user who spends most of their days at a desk with a comfortable recline
Synchro-Tilt with Back Angle Adjustment Option: designed for those who spend long hours sitting, the Synchro-tilt with back angle adjustment provides maximum adjustability by offering a 2-to-1 seat to back tilt with an independent back angle adjustment.
Back Height Adjustment: whether sitting at your desk for long hours or constantly coming and going, get proper back support with our adjustable back height. With six vertical positions, you can easily place our helpful lumbar support in the best location for your needs.
Arm Options
Armless: perfect for those that prefer the most freedom moving around, or have a very low-height desk that isn't conducive to chair arms.
Fixed Arms: ideal for those who need arm support every now and then, but don't want to fuss with adjustments.
Height & Width T-Arm: adapting to your individual needs, height- and width-adjustable arms provide customizable support throughout the day.
Fixed C-Arm: made for short periods of sitting, the fixed C-Arm option provides a distinguished look and comfortable support for individuals who are always on the move. Available in black or polished aluminum, matching your choice of base color.
Back Upholstery
Upholstered Back: classic and coordinated, this option matches your choice of seat upholstery.
Mesh Back: light and airy, the mesh back option provides breathable support throughout the day while adding a hint of style to the mix.
About the Manufacturer
Dimensions:

Mid-Back Work Chair
Overall: 46" h x 27.5" w x 39.5" d
Seat: 20" w x 17-19" d
Back: 22.5-25.5" h x 18.5" w
Width Between Arms: 17-19.5" w
Height, Seat to Floor: 17.5-22" h
Usable Seat Depth: 16.25-18.25" d
Shipping Weight: 52lb (Mesh Back), 58lb (Upholstered Back)

Mid-Back Work Chair with Back Angle Adjustment
Overall: 48" h x 27.5" w x 42.5" d
Seat: 20" w x 17-19" d
Back: 23-26" h x 18.5" w
Width Between Arms: 17-19.5" w
Height, Seat to Floor: 17.5-22" h
Usable Seat Depth: 15.25-17.25" d
Shipping Weight: 58lb (Mesh Back), 63lb (Upholstered Back)
The Ignition Chair from HON is one of their flagship office chair products. It's comfortable, ergonomic, stylish, customizable, and utterly unique. Mixing classic forms and style with contemporary body science and the latest in fabrics and materials, this is a chair for the 21st century office.
When the designers at HON sat down to build the next generation of office chairs, they had a set of ideas to work from. They wanted to make a chair that could truly be for everyone - a chair that could seat all comers and make them all equally comfortable. Gone are the days when office chairs were made for a specific size and then marketed to all. The Ignition Chair is built to comfortably and ably support all body types, from the 5th percentile to the 95th.
No matter who you are or where you work, the Ignition Chair is for you. They also wanted to build a chair that was as attractive and iconic as any classic chair, yet maintained the science-driven forward thinking of the modern performance chair. The elegant mesh back of the chair is reminiscent of mid-century furniture like the Eames Aluminum Group Chairs - but with an added dash of ergonomic know-how and precise craftsmanship, this chair is supremely comfortable as well as supremely stylish. They also wanted to build a chair that was adjustable and customizable - after all, who knows better than the user the most comfortable ways for them to sit, to work, and to move? That's why they added a raft of control features, all easily controlled through a series of discrete levers and knobs on the side of the chair.
Another priority was to keep the price point on the chair low - a chair as revolutionary as the Ignition Chair isn't meant only for corner offices. This is a chair for everyone, and the affordable price point is also one of its biggest and most impressive selling points.
To sum up - the Ignition Chair is an affordable, personalized, ergonomic, adaptable, flexible, beautiful office chair. What more could you want?
The Ignition Chair pictured above is the mid-back version, which is a good one-size-fits-all setting for the back of the chair. You can, as always, customize the product to better fit your personal needs.