Mini Planet Lamp by Kartell
Designed Tokujin Yoshioka, 2021
Mini Planet is a small yet remarkable lamp that can transform any room into an atmosphere-filled space. Its multi-faceted light creates a precious effect that is encapsulated in a mini version of the lamp, perfect for illuminating even the smallest corners of a room or to bring new light to table settings. The unique shape of the lamp creates a rich pattern of reflections that adds depth and character to any space.
Mini Planet is available in two versions: rechargeable and plug-in. The rechargeable version is dimmable and can be moved easily from place to place. It can be dimmed to three different light intensities by simply touching the top of the shade and has a very long battery life of up to 21 hours, depending on the light output. Ideal for the contract sector, for use in outdoor cafes or restaurants but also for use on the terrace or in the garden at home. The on/off plug-in version, on the other hand, becomes the ideal complement for nightstands and atmospheric spots both indoors and out.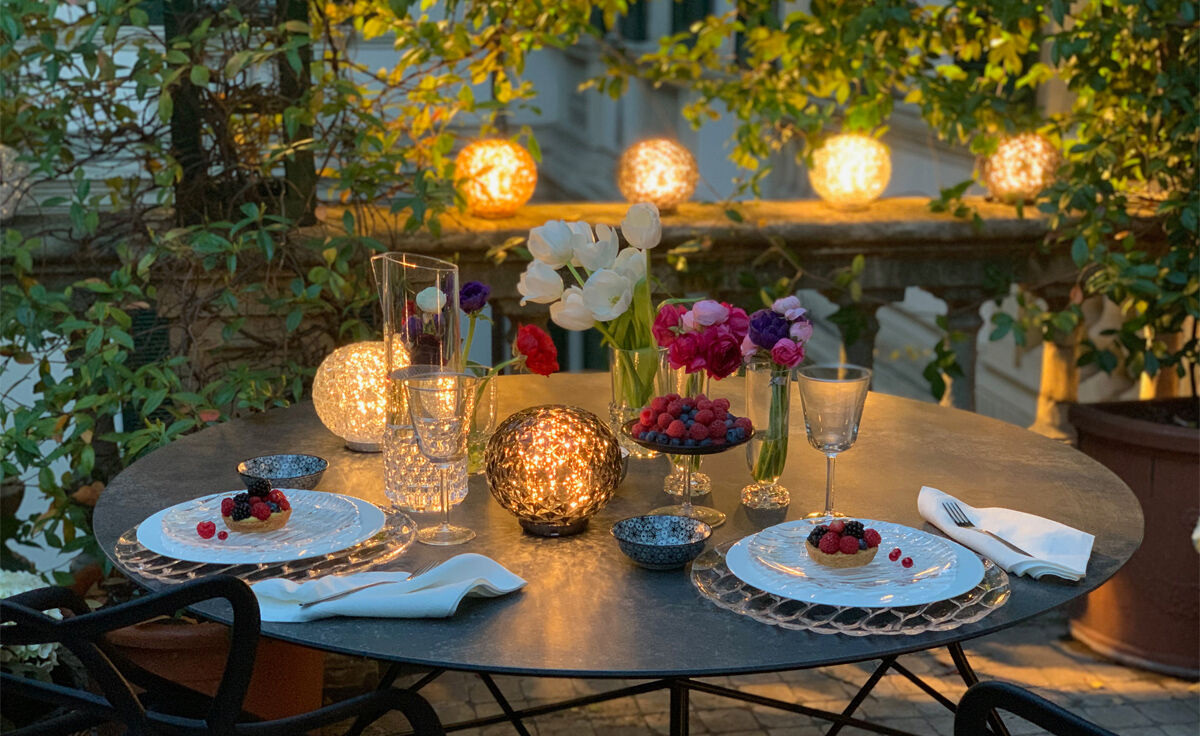 Features:
Rechargeable Battery Option
Lasts up to 21 hours on battery
2,800 mAh battery capacity
Comes with a USB-C charging cable (rechargeable battery only)
Designed by Tokujin Yoshioka
Made In Italy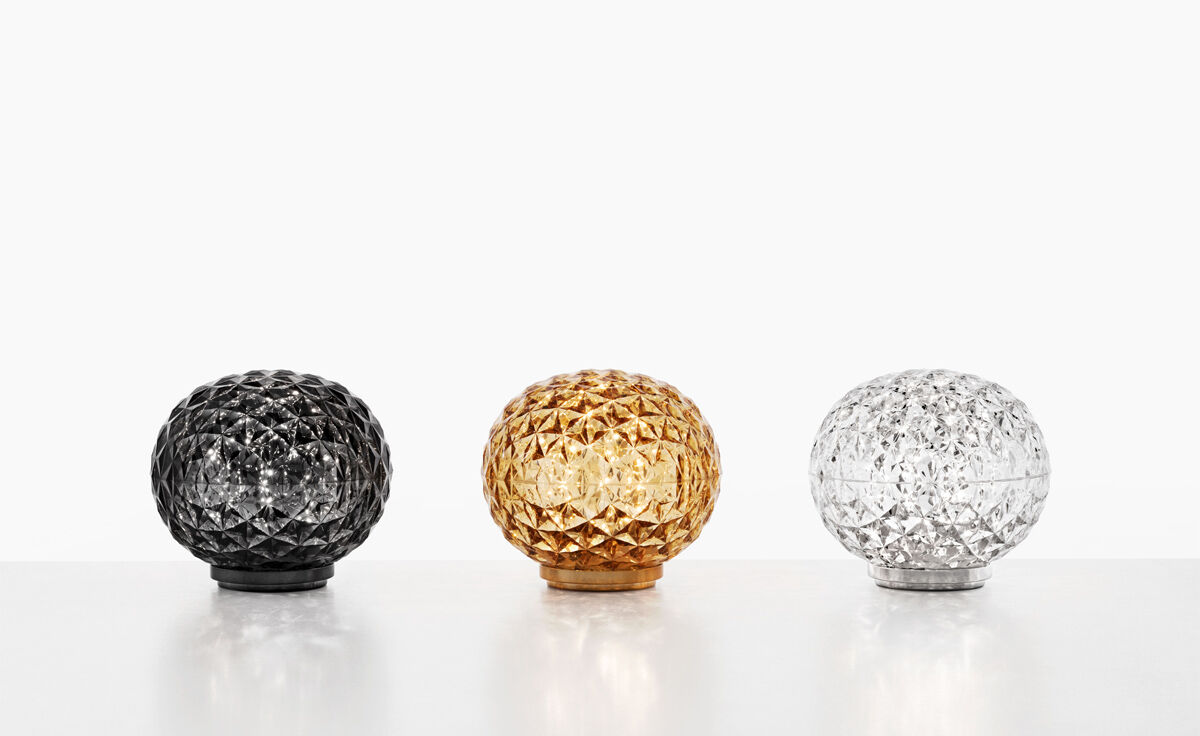 Overall: 8.67" h x 5.13" w x 5.13" d
Materials: Metallic technopolymer thermoplastic
About the Designer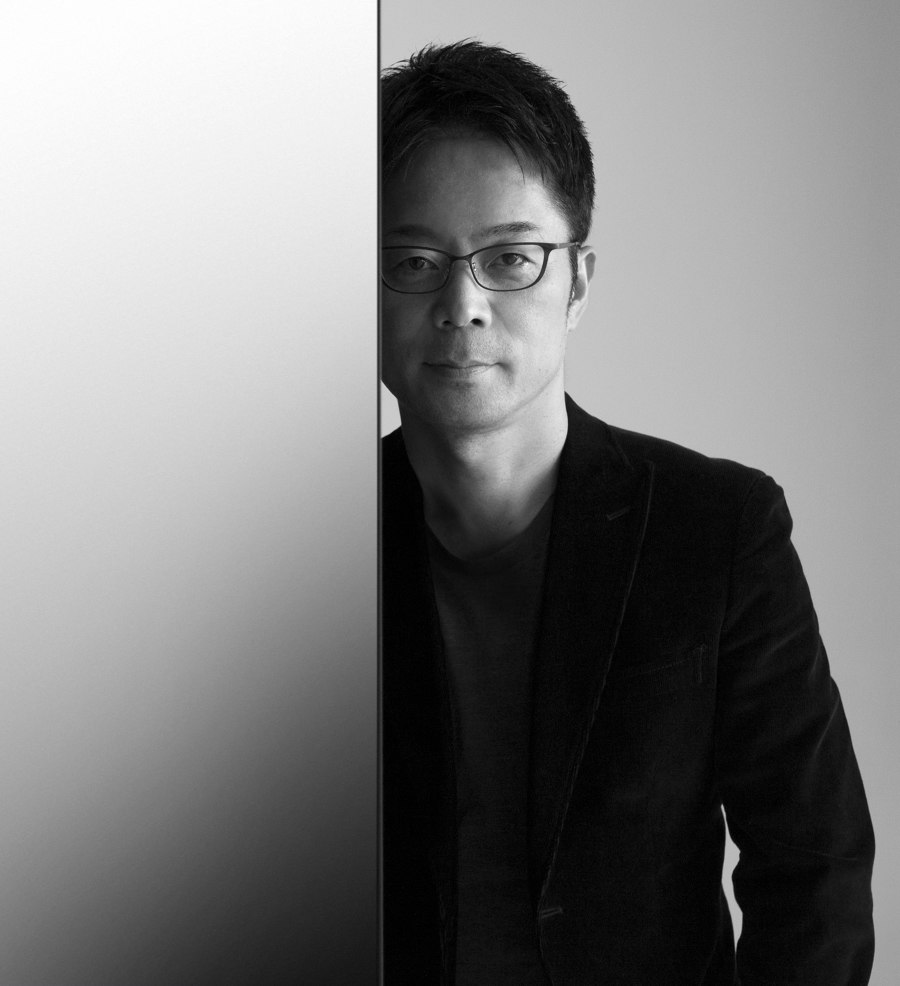 Tokujin Yoshioka
Tokujin Yoshioka was born in Saga, Japan, in 1967 and graduated from the Kuwasawa Design School in Tokyo in 1988. Immediately after that, he began important collaborations with Shiro Kuramata and Issey Miyake before founding his Tokyo-based studio, Tokujin Yoshioka Inc., in 2000. As a designer and creative artist working in architecture, installations and art, Tokujin Yoshioka's work is marked by a poetic and experimental approach that finds inspiration in Japanese culture and nature-related themes. His works are often characterised by transparent and reflective materials complemented by light and spatial interaction, transcending the concept of form and resulting from careful aesthetic and technological research. This premise gave rise to projects like the Transparent Japanese House (2002), later complemented in 2015 by the Kou-an Glass teahouse, a small entirely-glass pavilion inspired by the tea ceremony installed at the Shogunzuka temple in Kyoto. Similarly, in 2013 he designed Rainbow Church, a sensory installation presented at the Museum of Contemporary Art in Tokyo. Glass is a recurring material in Yoshioka's work, as evidenced by the Water Block bench series from 2002 or the furniture collection produced by Glas Italia, including the Prism Glass Chair with armrests, the Prism Glass wardrobe, the Prism Partition screen and the Prism Mirror Table and the Luminous and Fountain coffee tables.
About the Manufacturer
Creativity and technology, glamour and functionality, quality and innovation: a combination of extraordinary factors together with a strategic vision of distribution has contributed to the lasting success of Kartell. By cultural and entrepreneurial choice, since its origins in 1949 the Italian manufacturer has chosen to characterize itself as the market leader in the production of designers articles which use technology and plastic materials. This choice requires a great understanding of materials and transformation technology. A leader in furniture design, Kartell addresses an international audience with a collection unique in originality, variety, size, and range.
Kartell products are warranted to be free from defects in materials and workmanship for a period of12 months from delivery to the original delivery location under normal use and under conditions for which the items were designed.
Care & Maintenance
Simple care is needed for the maintenance of Kartell products to retain the original features of the materials.
PLASTIC MATERIALS
Cleaning - Use a soft damp cloth with soap or a liquid detergent, preferably diluted with water. Do not use acetone, trichloroethylene, ammonia or other corrosive plastic cleaners. Avoid ethyl alcohol, which dulls the surface. We recommend always using a damp cloth to prevent plastic surfaces from becoming charged with static electricity which attracts dust. Also avoid abrasive solvents, cleaning powders and creams, steel wool or rough sponge cloths.
Use - Do not drag objects across the plastic surface, even if it has a scratch resistant finish, since sharp objects can damage the plastic just as they would damage wood or metal. Do not place very hot plates or pots directly on the surface, but always use a cloth or trivet.
METALS
Cleaning - Normal soil on a steel or aluminum surface, whether natural or painted, should be removed with luke-warm water and a liquid household cleaner using a soft cloth or chamois. Never use cleaning powders, abrasive or steel wool pads, which can cause scratching, or liquid
detergents that contain chlorine or its derivatives such as bleach or muriatic acid.
Use - Avoid spilling grapefruit juice, cola, salt and coffee on metal surfaces. These can cause indelible stains. To remove black marks on aluminum chair legs, products especially made for steel finishes or non-abrasive car polishes are recommended.
COVER
Kartell uses different kinds of covers, for each one you may find the appropriate cleaning and usage instructions within the instruction card enclosed in the packaging.

Kartell US Inc. offers a plastic cleaner kit. Please contact custumer service for more information.