Herman Miller Nelson 48" Wide Platform Bench
designed by George Nelson
At A Glance:
Introduced in 1946, the Nelson platform bench was part of George Nelson's first collection for Herman Miller and still stands as a benchmark of modern design. Like much of Nelson's work, the platform bench has clean, rectilinear lines, reflecting his architectural background and his insistence on what he calls "honest" design - that is, making an honest visual statement about an object's purpose.

As presented in the 1948 Herman Miller furniture catalog, the platform bench "is primarily a high base for deep and shallow cases, but it also serves as a low table for extra seating." The 1955 catalog states that the bench "has proved to be one of the most flexible and useful units in the collection." The bench was reintroduced in 1994.

Also available in 60" and 72" versions to better fit your space.

Check out the Platform Bench 24" Cushion and Platform Bench 36" Cushion to add cushy comfort to the bench.

What's To Like:
The Platform Bench is a multiple-use piece of furniture. Use it as: a place for your guests to sit and take off their shoes; a coffee table; a display base for artwork, plants, and nick-knacks; or as a bench for a waiting area or your office. The beauty of this design is that it will, without a doubt, look good in any of those settings.

What's Not to Like:
You won't want to sit on this bench for long - it's hard and slatted. Designed that way by George Nelson to keep uninvited visitors from lingering in his office for too long, the bench can be made comfortable by the addition of one of the Platform Bench cushions mentioned above.

The Bottom Line:
This multipurpose bench, with its simple and functional lines, has become a collector's item. Used in all kinds of different settings for different purposes - or just to be a nice thing to look at, the Nelson Platform Bench is a classic example of mid-century modern's unique perspective of objects and how they relate to people. It's the perfect way to add seating and art to your home at the same time.

Details:
Overall: 14" h x 48" w x 18.5" d
Supports up to 300 pounds evenly distributed
Crafted from solid maple for strength
Slats are spaced to let air and light through
Seat is finished with a clear-coat lacquer
Choose from Ebonized Wood or Chrome base
Wood base legs are finger-jointed for superior strength
Legs have metal leveling glides
The Herman Miller Nelson Platform Bench is also known by the following manufacturer Item Numbers: PB, PB.48W, PB.60W, PB.72W, PB.48M, PB.60M, PB.72M.
Materials:
Slatted, clear-coated solid maple bench and ebonized maple or chromed metal base with metal leveling glides.
Dimensions:
Overall: 14" h x 48" w x 18.5" d
About the Designer
George Nelson
When writing about the course of his remarkable 50-year career, George Nelson described a series of creative "zaps"--moments of out-of-the-blue inspiration "when the solitary individual finds he is connected with a reality he never dreamed of." It was these zaps that would lead to the creation of some of the most original furniture designs of the 20th century- including the Coconut Chair and the Platform Bench.
An early zap came in the 1930s, when he was an architectural student in Rome. Before returning home, an idea struck him: He would travel Europe and interview leading modern architects, hoping to get the articles published in the U.S. He succeeded, and in the process introduced the U.S. design community to the European avant-garde. This set in motion a sequence of what he called "lucky" career breaks that were really the inevitable outcomes of his brilliance as a designer, teacher, and author.
About the Manufacturer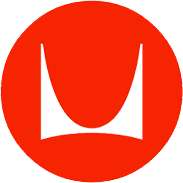 Herman Miller is an industry leader in the integration of cutting edge technology to furniture and other household items to make everyday life more comfortable, convenient, and stylish. Herman Miller stands out at the forefront of such fields as ergonomic technologies, environmentally friendly manufacturing processes, and customizable furniture items.
In addition to producing some of the most outstanding office furniture in the world, Herman Miller has also taken on the responsibility of manufacturing some of the most celebrated furniture designs by some of the world's most famous designs. These "modern classics" include works by Charles and Ray Eames, George Nelson, and Isamu Noguchi. Herman Miller celebrates these famous mid-century designers' works through its extraordinarily precise manufacturing techniques and industry-leading green production processes.
Herman Miller is a global company with operations, sales offices, dealers, and licensees in more than 40 countries in North America, Asia/Pacific, Europe, Middle East, Africa, and Latin America, serving customers virtually anywhere in the world. Herman Miller is headquartered in Zeeland, Michigan, while manufacturing facilities are located in the U.S., China, Italy, and the United Kingdom.