Noguchi® Rudder Table
by Herman Miller®
designed by Isamu Noguchi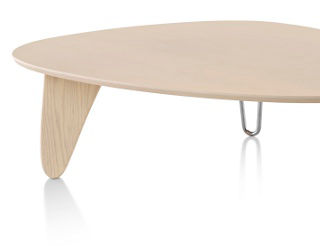 The Noguchi Rudder Table, designed in 1949 (two years after the celebrated, glass-topped Noguchi Table was designed), has been re-introduced by Herman Miller. This is good news for those who love iconic, groundbreaking design. The Rudder Table is made from a single piece of solid wood, with two bent chrome legs and one "rudder" leg made from the same wood as the top. It mimics the same shape as the glass-topped Noguchi Table, but with a much lighter, cleaner presence.
What's to Like:
It's a truly beautiful piece. The Rudder Table is poised and well-balanced without being predictable - or even symmetrical.
Solid wood has always been nice to look at, but it's even nicer when it's been carved or crafted into an intriguing shape.
This coffee table is the perfect size and height for living room use - without getting in the way.
The Rudder Table's corners are well-rounded, and its edges are smoothly beveled for a soft look, almost like a vintage surfboard.

Whether you're an Isamu Noguchi fan, a lover of sculpture, a mid-century modern collector, or just someone who can appreciate beauty in whatever form it takes, the Noguchi Rudder Table should be right up your alley. This coffee table won't make everyone happy, but the ranks of those who love its form and material quality will be far larger.
The Herman Miller Noguchi Table is also known by the following manufacturer Item Numbers: IN52, IN52A247, IN52OU47, IN52FD47.

Materials:
Wood table top with 3 finish options
2 chome legs and 1 wood leg

Dimensions:
Overall: 15.75" h x 49.75" w x 35.75" d