Oval Burdick Table
by Herman Miller
designed by Bruce Burdick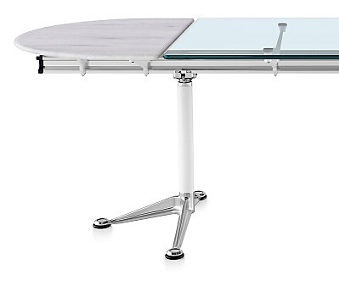 At A Glance:
The Burdick Table is more than just a dining table or conference table. It's a fully functioning table system. The table is available here in oval form but, with a huge variety of sizes and the possibility of expansion later, it is adaptable beyond that. As a dining table, it is an example of how beautiful and sculptural aluminum and glass look when combined. Fit for the finest of homes.
What's to Like:
The Burdick Table has the kind of striking form that captures the eye and fascinates the mind...


...and wins awards. This table was named one of the Best of 1981 for Industrial Design by Time magazine. And it's no wonder. It pretty much drips with quality and functionality.


If you need to use this table for the office, you're in luck. Power cord control is incorporated in the aluminum center beam, and cables can be routed down through the legs and out the bottom to keep your environment clutter-free.


If you need a bigger table later, keep the base, tabletop ends, and supports, and just get a new center beam and center tabletop piece.
Collection:
The Herman Miller Burdick Table also comes as a Rectangular Table.
Materials:
Glass Tabletop
Glass or Stone table ends
Aluminum base and bracket support
Dimensions: 4 sizes
28.5" h x 36" w x 108" d
28.5" h x 36" w x 120" d
36" h x 36" w x 108" d
36" h x 36" w x 120" d
A dedication to superlative performance
Given his background in exhibit display, it's not surprising that designer Bruce Burdick uses drama for a purpose. His Burdick Group tables are a perfect example. He describes them as "workbenches for executives." The tables demonstrate his belief that desks should be designed with the same dedication to superlative performance as custom golf clubs or a high-performance car.
The Burdick Group system is a unique assemblage of work surfaces, paper handling and storage elements, and electronic equipment supports, located along a structural armature in whatever configuration best suits the way people work. It can be arranged in many different sizes and configurations and can change and grow to reflect changing work patterns.