Herman Miller Sayl Side Chair with 4-Leg Base
designed by Yves Behar
The Sayl Chair with arms is available right here. The Sayl Chair without arms is unfortunately out of stock. We are sorry for this inconvenience.
At A Glance:
The Sayl Side Chair with 4-Leg Base is the lighter, go-anywhere little brother of Herman Miller's Sayl Task Chair, the latest creation from the offices of Yves Behar, a San Fransisco designer whose reputation precedes him as a world-class designer. While not achieving the frameless, suspension-bridge-like design of the task chair, the side chair is beautiful in its own right, unique, and priced affordably.
What's To Like:
Its sweeping, squared-off back and low-gravity frame. The Sayl Side Chair is easily one of Herman Miller's most easy-on-the-eyes side chairs. And at $349.00 ($384.00 for the Sled Base), the price is not what you'd expect to pay for an Yves Behar design.
What's Not to Like:
The Sayl Side Chair is a bit on the small side, so if you need an expansive seat and seat back, you might want to look elsewhere. Aside from that, there isn't much to say. It's a nice side chair for a nice price.
The Bottom Line:
This is a chair with the looks of a piece of sculpture, and its curving, relaxed back feels great to lean into. It doesn't get much better than that.

The Sayl Side Chair with 4-Leg Base Features:
Suspension Back for firm but yielding support
92 percent recyclable environmentally responsible construction
Fabric-upholstered seat for comfort
Choice of hard floor glides, carpet glides, hard floor casters, or carpet and hard floor casters
The Herman Miller Sayl Side is also known by the following manufacturer Item Numbers: AS4SSN, AS4SSP.
About the Manufacturer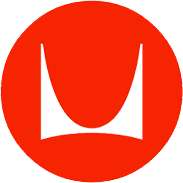 Herman Miller Authorized Retailer
Herman Miller is an industry leader in the integration of cutting edge technology to furniture and other household items to make everyday life more comfortable, convenient, and stylish. Herman Miller stands out at the forefront of such fields as ergonomic technologies, environmentally friendly manufacturing processes, and customizable furniture items.
In addition to producing some of the most outstanding office furniture in the world, Herman Miller has also taken on the responsibility of manufacturing some of the most celebrated furniture designs by some of the world's most famous designs. These "modern classics" include works by Charles and Ray Eames, George Nelson, and Isamu Noguchi. Herman Miller celebrates these famous mid-century designers' works through its extraordinarily precise manufacturing techniques and industry-leading green production processes.
Herman Miller is a global company with operations, sales offices, dealers, and licensees in more than 40 countries in North America, Asia/Pacific, Europe, Middle East, Africa, and Latin America, serving customers virtually anywhere in the world. Herman Miller is headquartered in Zeeland, Michigan, while manufacturing facilities are located in the U.S., China, Italy, and the United Kingdom.
About the Designer
Yves Behar

A vibrant, stimulating designer based in San Francisco, California, Yves Behar's design shop has had a hand in everything from work chairs to recycling projects, department store packaging to home appliances. His goal is to responsibly produce beautiful things; if it's not responsible (environmentally and socially) then it cannot be beautiful, and if it isn't beautiful it is not worth making. The Sayl Side Chair is just one more object in his long line of attractive and useful design pieces, all of which have a constructive place in the social landscape. With an eye toward economy, a heart toward the useful and the socially responsible, and a sensibility attuned to the lovely and the aesthetically pleasing, Behar is a strong and valuable voice in the design community.
Environmental Information
Up to 92 percent recyclable at the end of its useful life; plastic components are identified with an ASTM recycling code
Manufactured using 100 percent green power free of water and air emissions
The Sayl Side Chair carries MBDC Cradle to Cradle certification, meaning that at every step of the design and manufacturing process, it has been made as environmentally friendly as possible. The first step in the process is a chemical evaluation of the materials used in the chair. At the deepest level possible, Herman Miller inspects their products for any possibly harmful element within them. Doing this ensures that every product sold by Herman Miller, including the Sayl Side Chair, is totally safe for the air, for the environment, and for the quality of your workspace.
After that, each product is evaluated on whether or not it's easy to take apart. Because products like the Sayl Side Chair are so often recyclable when broken down into their component parts, making that breakdown easy is essential to actually getting the products to end up in a recycling barrel, and not a landfill or a dump. The Sayl Side Chair is easy to take apart, easy to recycle, and therefore much more likely to have a negligible environmental impact.
Recycling is obviously important to the environment, and to Herman Miller. That's why the Sayl Side Chair is 92 percent recyclable at the end of its useful life. That's a huge number, and it far outpaces the competition in terms of sustainable, recyclable manufacturing processes. Much of the material used to build the chair has itself been recycled.
Materials:
The Sayl Side Chair has an upholstered seat with foam padding. The Sayl Chair's overall components are constructed from plastic, steel, foam, and textile.

All base finishes are cast aluminum.

Measurements:
Overall: 34.25" h x 24" w x 22.5" d