Wireframe Chair
by Herman Miller
designed by Sam Hecht and Kim Colin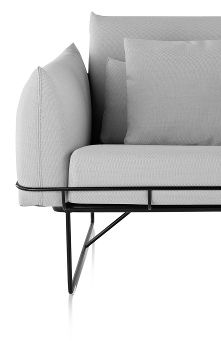 At A Glance:
The Wireframe Chair, with its external frame and removable cushions, is a nod to the common difficulties people tend to have with pieces of upholstered furniture. It seeks to remove those difficulties right at the outset, rather than one by one. The Herman Miller Wireframe Chair's frame is formed from strong steel wire - long in use for furniture like the Eames Molded Plastic Chairs, and now adapted to serve as a stable platform for this lounge chair.
What's to Like:
Each cushion can be independently removed, which makes cleaning a snap. Just remove and vacuum - and if the pillows need heavier treatment, you can just take them to be dry-cleaned. That's a lot easier than trying to lug a chair to the dry cleaners.


The Wireframe Chair comes with one lumbar pillow and one throw pillow. That's a lot of included comfort.


The chair features Herman Miller's Super-Seat suspension technology, which provides comfort and support across the chair's width. No matter how you're seated, your pressure will be distributed evenly.


Last, but not least - the Wireframe Chair is very light - both visually and physically. Most of us have gone through the experience of trying to move a big, heavy chair up stairs or through a tight door frame. Well, just take the cushions out and move frame and cushions independent from one another. You probably won't need to measure your stairwell ever again.
Bottom Line:
The Herman Miller Wireframe Chair incorporates both old and new technologies to come up with a completely new way of making a lounge chair. It's comfortable, lightweight, and easy to live with. And isn't that the point?
Collection:
The Herman Miller Wireframe Collection also includes:
The Herman Miller Wireframe Chair is also known by the following manufacturer Item Number: BK11000.
Materials:
Frame made of steel wire with 2 color options
Upholstery fabric made of 100% polyester
Cushion covers are removable
Dimensions:
30" h x 36.75" w x 34.75" d