Verve Desk Chair
The Verve Task Chair might best be described as perfect ergonomic simplicity. At the Smarter Office we believe you can simplify solutions without sacrificing performance. This is especially true when it comes to task chairs. Some manufacturers believe that more adjustment points equals better performance. We feel that simplicity and great design foster focus and productivity. The Verve offers superior lumbar support, adjustable height, synchro-tilt, and tilt tension adjustment. This chair was designed to take care of your legs and back so you can do your best work. It's that simple.
Features:
All models feature a 5" tall lumbar with 4" of adjustability.
Synchronous control allows the back and seat to move in a synchronized 2:1 ratio motion.
Mesh back keeps you cool while seated for long periods of time.
Height-adjustable arms changes height with a push button to one of 7 positions, with a 2.75" range.
What you need to know:
Assembly is easy. Should take less than 30 minutes.
The chair comes in quite a few parts, making it a pretty small box and easy to manage for delivery transportation.
Weight capacity is 300 lbs.
Base is modern and angluar, with casters similar to those on popular office chairs.
When installing the arms, you can choose how close they sit to the edge of the seat to better fit your body. You have about 1.5" variance on how wide to mount the arms.
The armpads on this chair are firm and durable.
Seat depth is easily adjustable and the tilt lock knob is built into the same lever as the seat height adjustment.
Recline is from the knee and you have the option to lock the tilt. You can lock the tilt to prevent recline and stay upright or lean back and prevent the return to upright if engaged while reclining.
The backrest is mesh and tall, and doesn't have a pronounced lumbar region. The adjustable lumbar support slides up and down and does provide additional targeted support in your lumbar region.
The seat pan is just the right mix of soft and firm. The upholstery is very soft to the touch, and when you push down on the foam under it with your hand you feel it give but when you sit for long periods it feels more firm and supportive.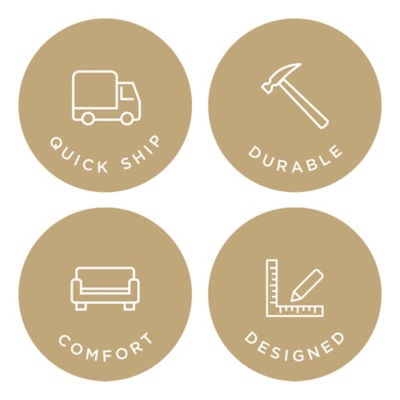 Materials: Black Nylon with Mesh

Measurements:
Overall: 42.7" H x 26.5" W x 19.4" D
Arm Height: 25.25"-31.5"
Back Height: 24.25"
Seat Width: 18.75"
Seat Height: 16.75"-20.25"
Product Weight: 32.3 lbs.

Assembly Required: Yes